Sienna SmartLace Human Hair Review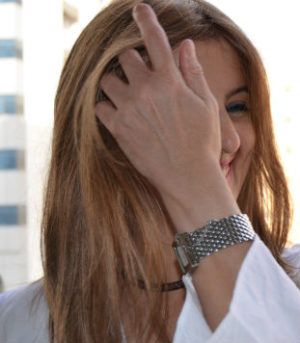 Finding that perfect, natural-looking wig is hard, I must admit. Being a hair distributor in the Middle East, I believe it's really important to provide wearable wigs of the highest quality for all customers. One of the wigs from the Jon Renau collection that I think stands out is the Sienna SmartLace Human Hair.
This mid-length wig is recommended for those who are opting for a very flawless look. What I like about Sienna is that it features a Lace Front and Monofilament top, giving the final look that extra natural touch without making it noticeable on anyone's head.
Because it's 100% Remy human hair, it allows you to freely style it – even with heat – and color it with no limitations.
Although I've tried and seen all kinds of wigs throughout my professional years in the hair industry, I really enjoyed the Sienna wig. It was easy to wear without having any assistance. I had to secure my natural hair with pins, slid on the wig cap, placed the wig on top and styled it any direction I wanted. If your hair is long, you just need to divide it evenly before wearing the wig cap. Simple!
It was not only effortless to wear but it also felt light and comfortable on my head. After wearing it all day, I didn't feel slightly annoyed or irritated by the Dubai heat. That's a really essential element that every wig should have especially when catering to people living in hot climates.
Also, what's great about this wig is it's designed specifically for both hair loss sufferers and for those who generally enjoy experimenting with wigs.
If you're always on the move and have no time to style your hair properly then Sienna is the right wig for you. You won't be disappointed!
Romyet Khouri