Saodat Rakhimova has been a hairstylist for fifteen years, from being a full time tailor  in Uzbekistan to a hairstylist, specializes in creating updos for bridal and party events in Dubai. She is currently working at the Loft Fifth Avenue in The Dubai Mall as an all rounder hairstylist.
Why did you choose hairdressing as your profession?
I started working as a tailor for three years, when l was watching one of my friends styling the hair. I then realised that l liked to style and work on up-styles.This is when l wanted to pursue my hairstyling career. 
Describe a day in the life of Soadat.
I work from 10.30-7.00 on a regular day, 6 days a week. After that l go home and prepare food and spend time with my son.
What is the most enjoyable part of your current job, and what part of Hairdressing do you enjoy?
I love to cut hair and highlight, but most of all l love to style and do hair-up. I love when a client comes in and ask me for a complete change (makeover).
Describe your clientele?
I have clients of many nationalities, but when l am working on a client, l don't like to talk as l like to concentrate on my work. thats how l work better.
What does it take to be successful in Hairdressing?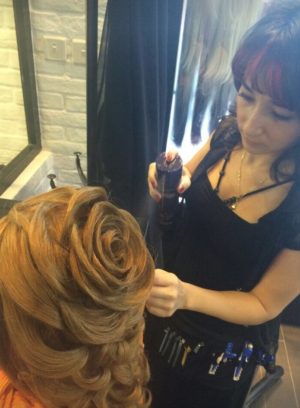 Regular trainings to keep up with the trends and techniques.
What hair care tips can you share with clients and readers?
To take care of their hair, make sure serum are put on the ends.When blowdrying, make sure that you smooth out your hair to make it last.
You have an art for up-do's, how do you know what style is suitable for the client?
I ask the client what event that she is attending, and what she is wearing wether it is a long or short dress. And from there l know what style that she requires.
How is Loft different from any other salon? Why would it be recommended by you?
Love sharing my work with the girls at loft. The team and management are very professional.
How would you describe your personal style?
I would like to say l am funky at the same time, classic.
If you had the chance to meet or work with a celebrity/Hair icon, who would it be and why?
"Will Smith", would like to meet him, l love his style and personality.
Do you prefer short or long hair on women?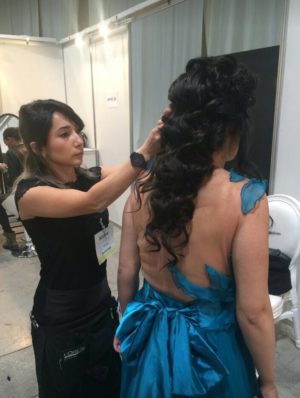 I prefer long hair as it adds beauty and there is so much styles that can be done on long hair.
What are your tips in finding the right color/hairstyle?
I look at the face shape, the skin color of her face, and then l advise the tones that are suitable.
Trying out a new product, what is your advise you can give your clients?
Make sure you choose a product that is right for your hair.Do not put too many products in your hair as it will feel heavy.
You can follow Saodat on Instagram @saodathairstyles.
Images provided by Saodat Rakhimova.