"Never forget that life is beautiful, only if we make it beautiful. Lead your dreams by yourself" – Alex Toutain

Wanting that French touch on your hair? Then this interview is for you. I had the privilege to interview Alex Toutain, owner of Version-Francaise hair salon in Dubai, for more details on what his salon is all about and what customers expect from his services. He also shares with me not only his and his wife's career but also how they both juggle two salons and some words of wisdom.
Hi Alex, could you tell us a bit about yourself and your career?

Hi, l started my career in 1987 (30 years ago) in France. Since l was young, l am passionate about making people feel great and beautiful. Hairstyling obviously is my vocation.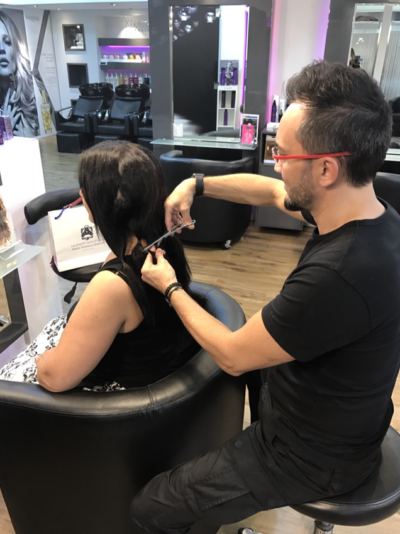 Both you and your wife are full time hairstylists and work together, did you both meet in a salon working together?
Yes! We met in Paris in one of the best salons of the capital and we always worked together since that day.
''Version-francaise'', what is the concept behind it?
It is a concept based on "the French Touch." We wanted to export the french way of working and taking care of people.
Describe a day of Alex Toutain.
I arrive at the salon at 9:30 am. I check and ensure everything is perfect and ready to welcome our clients. I work all day with my team and give a lot of importance to teamwork to make sure our customers are being pampered in a nice and peaceful atmosphere.
Are all your staff French speaking?
Not everyone speaks French but at least half of the team does.
What can customers expect from Version-Francaise salon that no other hair salon offers in Dubai?
The ambiance, the fact that we are always doing our best to satisfy our customers and of course the way we work using French technique, especially for highlights (for example).
You have two salons in Dubai Marina, how do you mange between the two. Where are they located?
We have one salon "Ladies only" in Marina heights Tower Dubai Marina which my wife is managing and one in Marriott Hotel Dubai Marina for men and women where l am working.
What hair brands do you use?

We mostly work with famous French brands like Kerastase, L'Oréal Professionnel, Essie, Guinot but also Redken, SRS, kerastraight, Brazilian blowout ect.
Did you notice different demands in hairdressing in Dubai compared to France?
Definitely! Women are more sophisticated in Dubai. "Dubai life" is offering many opportunities to wear beautiful dresses and tie up your hair or get a gorgeous blow-dry. Hair color also are different. Women like very cool tones. Cool hair color and cool blond highlights.
What is the one thing that makes a woman beautiful?
Her smile! Because that is the only proof that she is happy her hair looks beautiful when she leaves the salon.
You attend the L'Oreal Business Forum every year, how is this beneficial to your salon?
It really helps us, the management team in the salon than to get the latest inspirations and trends, it is really important to always be updated in our business.
Which famous celebrity's hair would you like to style? And why?
I would love to style Sharon Stone or Charlize Theron because they always change hair color and dare various hairstyles. Plus-they are so chic and modern.
Your favourite networking (social media)……….
Facebook and Instagram. We are connected to the world 24/7.
What advice do you have for people who want to follow in your footsteps?
Constancy, definitely!! This is the most difficult quality to find in someone. Constancy, involvement and respect are the keys to success.
You would never leave home without…….

My phone and my glasses ahaha!
The one person I'd love to meet is………
Nick Vujicic.
If you could share one tip, what would it be?
Stay humble. Keep focused on your goal and never get big-headed. Never forget how important it is to respect and consider customers.
You can follow Version-Francaise on:
Images provided by Version-Francaise