Tuttii Fruttii HairSculptors
I spoke with Co-Founder Toni Tits and Founder Tuttii Fruttii, Hairsculptor team, Jungola Drag Klownz, they share some of their inspirational ideas and stories about their colourful hair salon Tuttii Frutti in London.
Tuttii Fruttii, can you please share with me about yourself and your career.
Tuttii; My career started in Portsmith where l was 15 and trained to be a barber. The owner l worked for trained me up, and the best part of it was that l didn't have to  make tea or coffee, so l focused more on cutting hair. I was cutting mens' hair at 15 years old. I attended college for 4 years, with a NVQ of 1 & 2 in ladies hair. Once l finished college, I moved to another barber shop and while working in that barber shop for that time l was trained in American Crew in Barbering. At the age of 18 l moved to London worked at Jacks' and moved in various barber shops within London. In most of my work l am self taught especially in colour, style looks in terms of art form.
Rather than a hairstyle, l see the hair l use more like a canvas rather than a colour to go with the face shape.
Tuttii Fruttii, where/how did this name originate? What is the theme behind the name?
Toni; The name came from a friend Celia Arias, Lady Gonzalez. She met Tuttii at the Glastonwick festival dressed in home made clothes in a colourful pattern from head to toe that she had made and her colourful makeup which suited her outfit. Celia came up to her and said "oh" it's Tittii Fruttii, and that was how the name originated, and from then on her friends know her as Tuttii Fruttii. The name is the essence of expression and embracing colour, creative with your identity, all the fruits and shades of colours and types of people. Tuttii Fruttii is the cool concept all behind the shop, which is to cater all hair types, identity, and all genders that is accepted here.
The daily dress code consists of clown attire and full makeup. Can you explain more about this?
Toni; Artistic form of freedom to be whom we want to be and dress how we want to be and be just how we are. And this is how we are….playful, don't take life too seriously, believe in injecting fun and colour in your life. It's a gender neutral format, a clown is not a no gender, this is why we like playing with the clown. An art form that we have adopted, a form of identity that empowers us, it's an empower identity for us. We use to spread a message of love and everyone loves how we present ourselves.
When clients walk in to Tuttii Fruttii salon, do they know what they want? How would you perform a consultation in this case?
Toni; People come in with references or images that they have seen on their phone or social media, and we embrace all types of inspiration. so if they come with a picture of a sculptor they have seen or an album cover of a hairstyle or that they like or have seen, that they find inspiring or something that you think that you would love to have on me, we will embrace that as a part of a free consultation we offer. We have our own inspiration books  we can chat about what they like, shaved areas, what types of lengths. We show the colour books with the range of colours  a variable. we discuss it with them, the design to make sure they get what they want. It's a non judgement based salon. We are open about discussing everything and want people to feel comfortable with ideas that they have. You find in most hair salons you get the inevitable, either judgement, or the lack of inspiration stylists. That means any ideas that are out there, they get shut down or the stylist wouldn't know how to interpret that as a hairstyle. At Tuttii Fruttii we have creative minds and always  interpret visioning any inspiration that brought in wether they have that idea or not. We always find something that fits what they want.
We call ourselves HairSculptors… term includes Trans people, non gender specific, gender neutral hair salon. We call ourselves Hairsculptors we use as a signature style that Tuttii Fruttii has created using razor cutting, clipper cuts and razor shapes with different abstract patterns.
Do most of your clients come in for these types of hairstyles?
Toni; Hairstyles that we do are a mix of classic cuts, our daily customers know that Tuttii is specialised in Barbering. We have a lot of short hair cuts, standard barbering services, all classic ladies cuts, long and short. Our specialisation is hair coloring, hair sculpting and clients come for that specifically. We have a mix of people, some creative, some not creative. We accept all types of styles and all hair types from classic to extreme.
Your designs are beautiful and very creative, do you dream up these ideas or think of them on the spot?
Toni; Tuttii would have a sudden vision or idea based on something she was drawing. She has inspiration, she jots down ideas in her book of new patterns and pins it down to inspiration which flows quite naturally which she sees' this as a sculptor to the face. Ideas usually come on the spot. we look at the face, create something unless the client comes in with a picture or look book. If we were doing a photoshoot, for our look-books, we design all the concepts and looks before hand for our clients.
If you had to describe your personal style in one word it would be…
Toni; Jungola Klownz
When do you get excited about a hair transformation that you have done?
Tuttii; When the client has been given total freedom to create an idea and come up with something really interesting and exciting, that's the best time. The most exciting part is when the client loves the final part and her face is glowing with happiness and feeling empowered from the style and design.
What inspirational message can you give to hairdressers aiming for your profession and expertise?
Toni; Don't be afraid to push your boundaries, go with your gut feeling, believe in the ideas that you have and the vision that you can see and want to create. There is a market for this, and place for this creativity in the world. Do not restrict yourself to the rules that are in place.
Who are your clientele, and what are there most hair demands?
Toni; Tuttii Fruttii London is located in the Southeast of London in the neighbourhood of Deptford. Our clientele are a local mix within the suburb. Previously we were in a caravan, a smaller business in an art hub around the corner, that's were we started, were our local clients still visit our salon. This shop has replaced a barber shop of 75 years, and our landlord used to cut there hair when they were 10 years old. People that have grown up are still coming to the same shop.
We get a lot of artists, art students from Gold Smith Art School(University) which is around the corner of the salon. Artistic people, young people, students and artists live in the area. Drag queens, performers, designers, creative people, and musicians and anyone who has found us online. We love to see a mix of local and creatives, and get a broad range of people. We make sure our salon is comfortable for anyone that walk into our salon.
What have you found is the best part of what you do?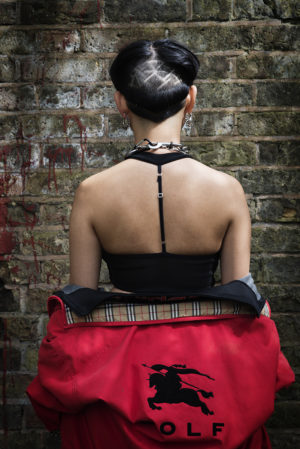 Toni; Having total freedom and create styles under the Tuttii Fruttii name. So the sculpted style, the patterns, fantasy colours, my sculpted styles is the most exciting thing that l do right now. Being able to create the identity of Tuttii Fruttii London.
What motivates you…
Toni; Creativity, to push our vision out. Spread our ideas of freedom of expression, hair artistry, hair-bride spread that message so people feel more comfortable to spread our vision.
Which celebrity's hair would you love to style or give transformation to?
Tuttii; RuPaul from RuPaul's Drag Race.
Tuttii; Angelina Jolie because she is absolutely gorgeous.
What would you say to the people that would like to visit Tuttii Fruttii London.
Tuttii; There is space for everybody, not only for people like extreme styles. There is space for people that like classic styles, this is a space where you come in and get any style that you want, any gender, any hair type we can create, anything that you want here, about coming in, don't be afraid of any style we can cater for you, and leave feeling absolutely fabulous and feeling like a million dollars.
Credits
Interview by Romyet
Images provided by Tuttii Fruttii London 'Hairsculptor'
Photography; Kurtis Llyod, Paula Harrowing, Claudia Moroni
Callobaration; Celia Ariass 'Lady Gonzalez, Prangsta Costumes
The salon is called Tuttii Fruttii London.