Did you catch a glimpse of the viral video 'Things people say to Hairdressers', featuring Australian Radio Announcer and Comedian Tanya Hennessy? With over 14 million viewers, the video was realistically hilarious and is bound to make you laugh, especially the interaction with hairdresser Lexi Bannister. To know more, here is my full interview with the star of the clip, Lexi:  
Hi Lexi, can you please tell more about yourself. Who is Lexi Bannister and when did you realize hairdressing was your passion?
Originally from Canada I moved to Australia 22yrs. I don't have a story like 'I always played with hair when I was younger' or anything like that lol. I actually didn't start hairdressing till I was 21! I just knew I liked hair and it could be something I would be good at. Wasn't till I was 27 at my first Hair Expo watching the gala they put on that I realised 'yep this is what I'm gonna do for the rest of my life! Was just a lightbulb moment!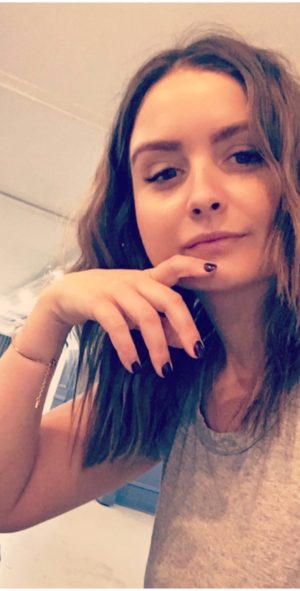 Describe a day in the life of Lexi Bannister.
I wake up have breakfast then go do my personal training- my exercise is so important because I work 6 days a week nearly 12hrs a day! Then I'm off to work at 11 and there till late night just doing all my beautiful clients. Sundays are the only days that are different because I get to relax! That day anything goes!
You juggle between two salons, one in Canberra and one in Sydney. How do you successfully manage both salons as well as your time?
I've actually finished that but I did the travelling for 8mths. I'm not gonna lie it was hard! I would wake up 3:15am get ready then drive to Sydney and work a day of clients then drive home. I did this though to get experience from one of Australia's top salons Edwards and Co so in the end the hard work paid off. I'm in the process of opening a boutique salon so I had to end it to focus on that.
Who are your customers? What do Australian clients ask for mostly? Are there any specific hairstyles or colors that they ask for?
My clients are all kinds of different people from old to young! Us Australians love low maintenance beautiful colours, balayage is very much a thing here as it was 2 yrs ago. I like to work with people's lifestyles and their natural colour so everything compliments that first. I rarely do clients that have tints unless their very grey.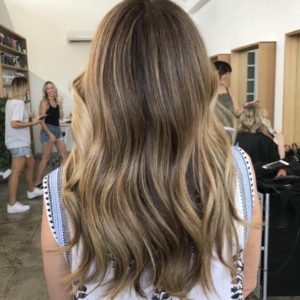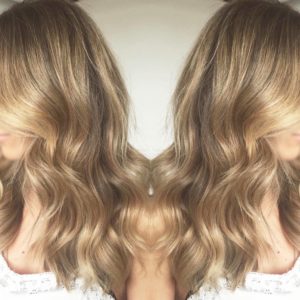 You recently worked with Tanya Hennessy on "Things people say to hairdressers". Can you tell more about how this collaboration came about? What was it like working with Tanya?
I was actually already doing Tanya's hair and were actually friends now as well so I guess you could say was the right fit for it. I went to a performing arts school so I"m not shy in front of a camera as well. Tanya's just easy going and very in the moment so we had lots of laughs!
The video has received over 14 million views on Facebook. You could say it went viral! What was the reaction you received and has it somehow boosted your business?
You can definitely say it went viral! Its appeared in things like 'the daily mail' to 'pretty 52' so collectively were talking more then 14million views! Business wise its not really added to clients I already had a strong following in Canberra anyway, but people now ask me to be part of things like this blog or posting on their social media.
Video can be viewed by clicking on this link.
Would you able to share with me any upcoming hair trends we're expected to be seeing in the coming months?
I don't really follow trends unless someone brings photos of something happening at that time. I like to create hair that is going to suit my client and still look beautiful in 6-10 wks time. Trends come and go but I think its very difficult to find hairdressers that can make you colour look like its been lightened by the sun and grows out seamlessly.
How would you describe your own personal style?
So I guess you could say the previous answer can fall into this questions answer. My style is enhancing natural hair that wears and grows out easy and beautifully. I'm more well know for blondes and brondes and that's mostly what's posted on my social media.
What do you love most about being a hairstylist?
My clients come to see me generally 8-12wks.
I love creating natural colour with balayage and classic foils but I love the relationships I create as well! Most of my friends are actually my clients lol.
What is the most challenging and rewarding aspects of being an entrepreneur?
Challenges- lack of a social life lol. My time is limited and sometimes I'm just too tired to work on that. Doing my clients is the priority over everything else at the moment so I can take the next step and open my salon. Rewards- being able to take the next step from your success and seeing you brand develop into something people start talking about and now people want to be a part of it as well!
What is the key to success for aspiring hairdressers and entrepreneurs?
Rhianna comes to mind for this one lol 'werk, werk, werk, werk, werk, werk,' when your in your apprenticeship just put your head down and do the work no matter how long it takes' always always do education, find the hairdressers you love and try and assist them to learn even more! And until you reach the point that people know who you are in your town always fit those clients in and put in the long hours in the salon so you setting yourself up to go on your own. You wanna have a business then its all about the clients because they ARE you business!!!
How do you manage your social media channels at the same time working and having a social life?
Social media feels like it becomes a second job but I try to not do to much posting, I keep it to one post a day. Generally if I'm doing something extra like a video or blog post for someone I keep it to working hours. You really need to keep some separation on you time off or else you'll end up not wanting to wake up and go to work lol.
Who was the most exciting person that you have met?
My latest mentor Michael Kelly, his works amazing and he's so down to earth as well. Check him out @michaelkellycolourist
If you had to do one hair service for the rest of your life, what would it be and why?
Colour, colour, colour!!! I feel most creative with colour and its what I'm known for.
If your luggage was lost while on holiday, what three hair products would you have in your  carry bag?
Oribe gold lust shampoo and treatment and David Mallet sea salt spray. I can clean my hair and treat it, then spray the sea salt and let it dry naturally for the bed head look we're always trying to nail!
Thank you for taking part in this interview. Is there anything you would like to add or share with our readers that we haven't covered?
Always make sure you show your clients how to care for their hair! Too many clients come to me with damaged hair because they haven't been properly informed!!!
Editorial Styling by Lexi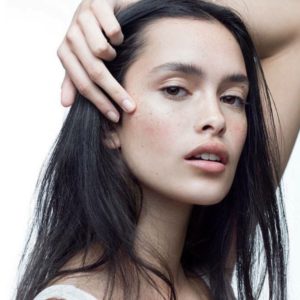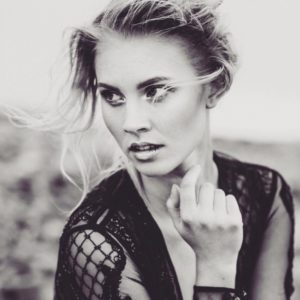 You can follow Lexi on;
Facebook: LexiBannister_Hair
Instagram: @LexiBannister_Hair
Website: www.lexibannister.com
Credits: Images provided by Lexi Bannister