Margaret Dabbs Sole Lounge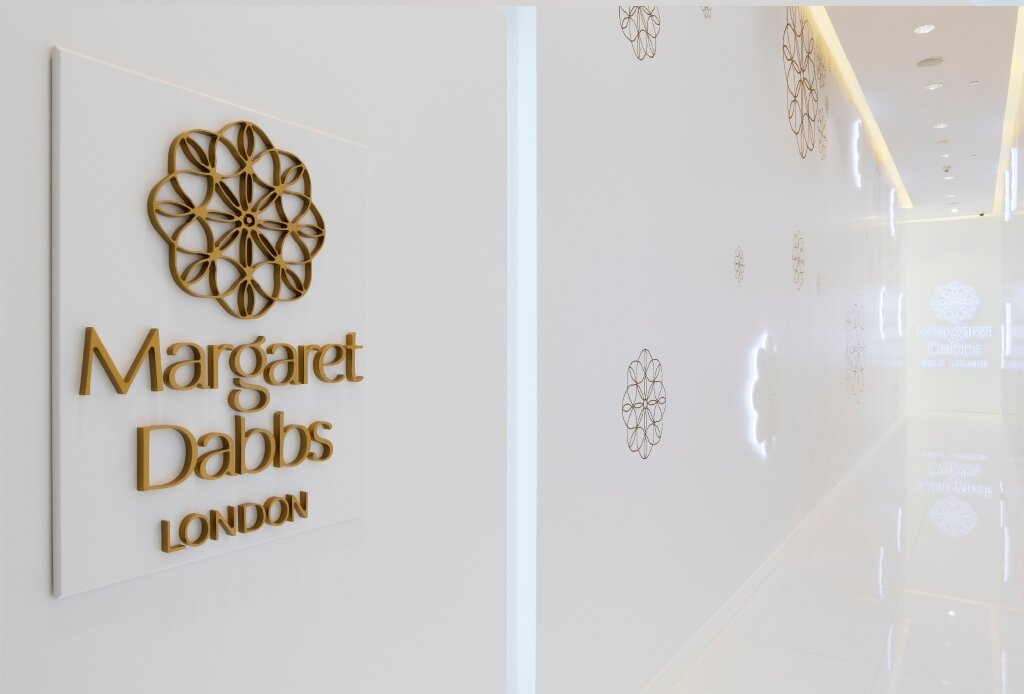 Who is Margaret Dabbs? What does her clinic offer?
Margaret Dabbs is the celebrated podiatrist and foot expert who founded her first foot clinic in London in 1998 in private consulting rooms in the Harley Street area of Central London. She went on to create the Margaret Dabbs London brand to include foot clinics with nails spas across the UK and internationally, introducing teams of both qualified podiatrists and professional beauticians to perform her unique treatments. The clinic offers results driven feet and hand products and manicure and pedicure treatments for both men and women which will provide effective, long lasting anti-ageing for both hands and feet.
How would you describe Margaret Dabbs?
Luxurious, innovative and effective.
What makes her own line of products unique from other beauty products? What is the main ingredient?
The Margaret Dabbs products are based on a key ingredient which is Australian Emu oil. The products are formulated by Margaret to work effectively on the skin of the feet to treat common foot conditions. Lemon myrtle provides the range's signature light refreshing scent to soothe and relax. The Margaret Dabbs range of foot products give a whole new experience to the consumer – products that really work, but are also a joy to use.
What can you tell me about the Emu Oil? How is it beneficial?
Renowned for its healing properties, and aboriginal in origin, the Emu oil is easily absorbed into the skin's dermal layers, has very low irritability, anti-inflammatory and anti-fungal properties, and is a known emollient.
Looking at your treatment menu, most of your signature treatments are medical. Can you explain to me what that is?
The medical foot treatments are performed by our fully qualified podiatrists who have studied and who are expertly qualified to treat feet (they have studied for 4 years at University).
They are qualified to use instruments to safely treat your skin and nails and you cannot get this from a cosmetic pedicure.
You're known to have the world's best pedicure, the Medical Pedicure, in the UK. Can you tell more about this and why it's famous?
The Margaret Dabbs Medical Pedicure is our main and signature treatment. This 45 minute treatment is renowned for creating the perfect sole; performed at one of Margaret's foot clinics by one of her qualified Podiatrists it is a complete overhaul of the feet, addressing the foot in its entirety and the pedicure is performed on a dry foot to ensure exceptionally long lasting results. The feet are transformed with the safe surgical removal of all dead and dry skin and callus. The nails are shaped, buffed and re-hydrated, and the feet are left revitalised, and glowing. This fusion of health and beauty utilises Margaret's amazing range of foot care products, expertly formulated by her with Emu oil for its anti-ageing and moisturising properties to give feet that are left looking and feeling 10 years younger.
On your treatment menu, there are many services. How do l know what to choose or what l need?
Our receptionist team are trained to understand and know all of our treatments so will guide you to the best treatment possible for yourself. If the treatment is foot related, we do always advise our clients to have the medical pedicure as any foot related issues can be discussed during this treatment.
Are your foot treatments for everyone or just for medical purposes?
Yes our foot treatments are for every one of all ages and men and women. Many people will come in for the Medical Pedicure instead of a cosmetic pedicure for a more thorough treatment.
How is Margaret Dabbs different from any other nail clinic?
All our formulations are created by Margaret herself for maximum effect and we fuse health and beauty together providing a luxury environment. Our products contain anti-ageing ingredients and nail polishes are treatment-enriched with oils and vitamins.
Why can you offer clients that no other beauty clinic can?
We can offer luxurious, innovative and effective products and treatments to give you healthy, beautiful hands and feet. We offer foot treatments on a medical level, but also with beauty combined.
Can Margaret Dabbs' line of professional products be purchased from the clinic and via online website?
Yes in all of our clinics and our website is www.margaretdabbs.co.uk
What beauty advice can you share with consumers?
Ensure that you always use the Margaret Dabbs London Professional Foot File on dry skin – this will give much more effective and longer lasting results and always follow with a moisturiser. Follow with the Margaret Dabbs London Intensive Hydrating Foot Lotion, Intensive Treatment Foot Oil or Foot Hygiene Cream.
Are you looking into expanding within Dubai?
We are always looking at new opportunities to expand so yes I'm sure we will in the next few years.
You can follow Margaret Dabbs Sole Lounge on Instagram (@Margaret_Dabbs_London), Facebook (@MargaretDabbsLondon or @Margaret Dabbs Sole Lounge Dubai) and Twitter (@MargaretDabbsUK).
For more information, visit their website and to book an appointment, call +971 45016688