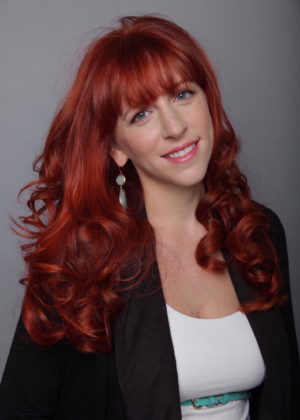 Ever heard of a salon that offers only hair styling and blow dries?!  If not, well here is your chance! The lady behind Be Bar Blow Dry Bar's teal door, Andrea Lindeyer gives me an insight of her professional career, why she opened a niche salon in Dubai, her clientele and much more.
"Be you Shine True"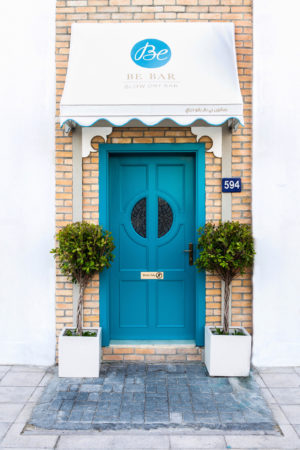 Hi Andrea, could you start telling us a bit about yourself?
I am from Oklahoma USA, a Midwest girl at heart. I'm a real family person, my 3 kids and my  husband are my loves, and I spend every second I can with them. I started studying hair at the age of 16 in Oklahoma and by 19 I landed my dream job at Jose Eber Salon in Beverly Hills. I met my husband in London while I was studying at Vidal Sassoon and after a year of long distance, we moved to Dubai together.
I have been living in Dubai for 10 years now with my lovely husband and our three children.
Four years ago, I decided it was time to open a salon, and Be Bar was created. We have been operating for almost 3 years now and I am extremely proud of what we have created.
Jose Eber hair salon Rodeo Drive is where you started, can you share you experience. Which famous Hollywood stars did you style?
This was such an incredible time in my life, it was full of excitement and fun. I was very lucky and fortunate to land my job at Jose Eber, it was very much a case of fate, or being at the right place at the right time, either way I was lucky. I learned so much about styling hair in Beverly Hills and my experience in LA really set the technical groundwork for the styles and techniques I teach to my staff at Be Bar.
Everyday was so exciting in LA, every morning I would wake up not knowing who I would meet or what amazing client or opportunity would come my way. I got to be a part of the first season of the 'Girls Next Door' at the playboy mansion, styling the hair of Kendra, Bridgette, and Holly. I worked on fashion shows for Versace, Hermes, and Tiffanies among others. I have done the hair for Tamara Ecclestone, and even the Queen of Sweden.
Be Bar, what is the meaning behind it?
Often when I do a clients hair and I show her the finished product, she will say, 'this is exactly what I wanted to be'.  Hearing this statement over and over made me realize just how interwoven Women's' identities were with the state of their hair. I really began to appreciate the importance of a good hair day on the mental wellbeing of my clients and I wanted to create a concept that allowed every woman to experience the confidence and happiness that comes from something as simple as a blow dry. At Be Bar we have designed a hair menu in which ladies can choose a look that suits their mood. Whether it's Be Sleek, Be Romantic or Be Flirty, a woman can leave Be Bar being anything they want to be.
It's such a unique concept to have a hair salon specifically for just blow dries, hair up-do and styling. How did this idea come about and why did you decide to launch in Dubai?
Working in Beverly Hills really made me passionate about styling hair so it made sense to me to focus on something I was good at and to teach others my craft.  In Dubai hairdressing is  lumped together into cutting, colour, and styling, but each one is a science of its own. In most big cities hairstylists specialize in one of these arts and are extremely good at their specialty.  I wanted to bring this idea of specialization to Dubai.  There are so many events in Dubai, and not much time to get ready for them, so women should have a place to go where they know they will walk out looking great!  This is what we try to offer at Be Bar, an experience where you don't have to feel anxious about the end product because you know we take styling seriously.
Do you offer home service for a busy mums or business women?
Yes, of course!  We offer home services, and we will also go to the hospital when women deliver their babies, this is a time a woman should feel beautiful especially with all the photos that are taken. We open at 8am so that women can get their hair done for the start of their day.
What can customers expect from Be Bar salon that no other hair salon offers in Dubai?
Be Bar has a very fresh, light, happy atmosphere we are told it feels like you are in LA or New York.  We value customer service and we empower our staff to communicate with our clients which makes Be Bar a very personal experience. Be Bar is a great place to come for parties or with a group of friends to enjoy a scalp massage, blow-dry and a Nespresso coffee.  Come and experience it for yourself.
Many people wear hair extensions in the Middle East. Do you also provide this service? If not, will you provide it in the near future?
We carry Balmain and Halo hair extensions. The services we provide are Balmain tape, double hair, and head dress and Halo has removable hair extensions.  These are great options for adding length or extra thickness.
What brands do you use?
We love brands that are unique to the market and are natural. We spend a lot of time considering which products are better for our clients and for our staff to create the perfect style. We currently carry Davines, Oribe, Balmain, Rahua, and Brazilian Blowout. We have Olivia garden brushes , and cute Band.o accessories.
What are the most popular blow-dries or hair styles in the US, UK and Dubai?
I feel like things are loosening up, the curls are going from beachy, to a looser more shaggy beach wave.  The lob is still a favourite!  Braids are still going strong and can really add a pop to any style.
Did you notice different demands in hair styling in Dubai compared to US and UK?
I think that women are women wherever they live, so I don't think the demands are that different. I think that hair types and lengths are different in every country so technically a hairdresser has to be stronger in Dubai. This is why at Be Bar we don't teach a blow dry, but we break down techniques so that our stylists are prepared to know how to handle any hair type. I think the most popular styles can vary depending on the city people live in Dubai and LA have more in common as far as hair styles and fashion are concerned.
'Be you. Shine true.' What's the meaning behind this motto?
'Be your own kind of beautiful' and 'Be you Shine True' mean to be yourself, own your beauty because there is only one you and you are unique, let your inner beauty shine out. These mottos were created for our clients and our staff.  We believe that every woman is special and beautiful and that we need to look deeper than on a superficial level.  At Be Bar, we don't change anything with cutting or colour, we are working with a woman's natural beauty to bring out their confidence and to give them a bounce in their step.
What specific skills or qualities is needed to run a successful business yet a franchise?
Oh goodness, I'm still trying to figure this one out.  I think important qualities are persistence, perfectionism, stamina, patience, and kindness. I think being hands on is important; Lindsey are very involved on a daily basis.  We spend a lot of time creating systems and documenting how we run the business which would be imperative for growing the business.
                                                                                                         Your favourite hair styling brushes are…….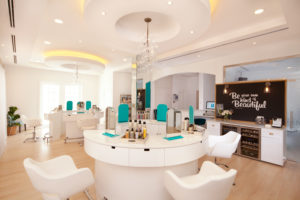 I love Olivia garden brushes and Ibiza hair brushes.
You would never leave home without…….
My cell phone and a big tumbler of water and a snack.
What's your favourite hair product or styling tool that you cannot live without?
am addicted to Oribe's soft styling lacquer for up-styles.  Rahua is my favourite all natural shampoo and conditioner line.  I love the Balmain serum and their texturizing sprays. Davines Shampoos are incredible and I am in love with their hairspray it smells amazing and is the only one I'm not allergic to. Who can live without the Brazilian Blow Out frizz free hair in this heat!
What would be your ideal working environment? When are you the happiest?
What makes me happiest is when I am with my family and my business is flourishing.  Making that all happen at the same time is not so easy! It took a very long time to figure out the perfect work life balance, but after a lot of guilt and tweaking mine and my kids schedule I love my working environment.  I physically work for Be Bar from 8-3 either from my home office or in the salon and as a business owner I'm always available on my phone. I'm a stay at home mom from 3-7:30. I feel like I get the best of both worlds.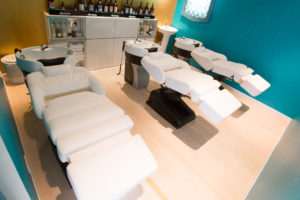 If you could share one tip, what would it be?
Hair: if you braid your hair when it's damp before bed you can have a nice natural beachy hairstyle in the morning. Finish it off with some Davines invisible serum to tame frizz and add definition.
Life: follow your dreams; life is too short for living with regrets.
Follow Be Bar Blow Dry Bar on:
Instagram: @mybebar
Facebook: @ mybebar Be Bar – Blow Dry Bar
Images provided by Andrea