Interview with Multi-Award Winning Hairstylist Rossa Jurenas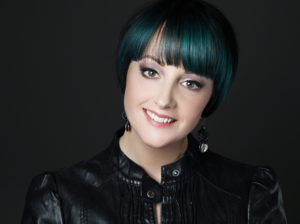 "I have always loved the hair industry," says Rossa Jurenas. Rossa was just 6 years old when she remembered walking into an "upbeat salon with friendly faces, lots of chatter, trophies on the front counter and the smell of the shampoo". She even recalls the shampoo, which was Schwarzkopf Professional – white bottles with a green top.
However, the main inspiration of her getting involved in the hair industry was the hairdresser who cut her hair when she was young.
"I remember sitting in his chair and he would tell me ALL the time I need to get into hair, " she says. "Instead, I went to university and received my degree in Business & Communications."
"As I was in school, I studied make-up and my job while studying was at Lancôme and then MAC make-up in which I started to see more the beauty industry!"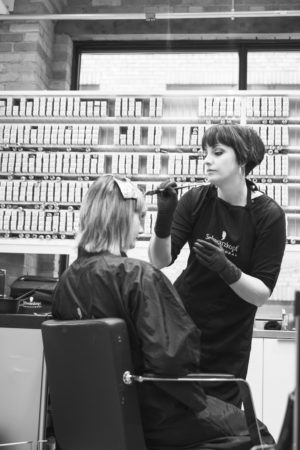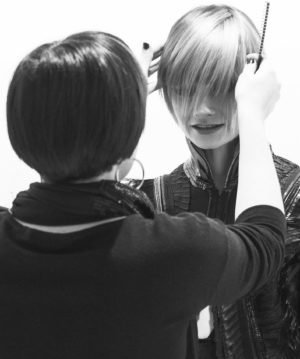 Studio Rossa / Schwarzkopf Professional North American Color Director
Once she decided to get into hair, the place she was first recruited was the salon she used to go to as a kid and it was where her mentor was.
All thanks to him, she is now the North American Color Director for Schwarzkopf Professional and a multi-award winning hairstylist, colorist, make-up artist and industry educator.
Having won many prestigious awards for her creative work, Rossa shares which award meant a lot to her …
Honestly, it's not about the awards. Do not get me wrong, it's great winning an award – it is like a cherry on top of a sundae. For me, when I do a photo shoot, it's about showcasing my artwork – the art form of hair.  These are things you cannot do on an everyday salon client. It's about pushing myself to new heights and seeing what else I can do and how I can perfect my work.  I believe we always needs to push ourselves and this is how I do it.  My work is either in fashion magazines or I submit it for competitions.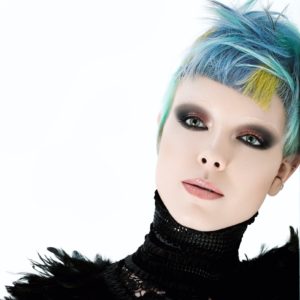 What it's like being trained by well-known professionals such as Vidal Sasson and Viviene Mackinder and what she learned from them that she applies to this day …
Learning the classics and seeing hair as a fabric. Focusing on shapes, movement and texture as well as how the hair falls. Face shapes and body shapes are my main focus when creating my looks; why do I place that color there and how.  These 2 industry icons made me aware of the fact that there is more to hair –it is an overall picture.
Her secret to entering or even being nominated to hair competitions/awards as well as tips for current or aspiring hairdressers and hair colorists wanting to follow her steps …
Like I mentioned before, push yourself and see what you can do with your craft. There is nothing to lose!  Yes, you may loose a competition but you pushed yourself to something you never thought you could do or try to do. Get your work published into magazines and posted on social media. Let the world see what you can do. It's for yourself and not anyone else!
"Sometimes the most little things grab my attention to more bolder, strong ideas."
Gives us an inside scoop on what the next big hair color trends we're expecting to be seeing soon …
Color changes but history does repeat itself. Freehand painting, balayage or ombres I think are staying for a little longer. I think bold bright or pastel color trends will stay but shift to more acidic tones or a little more antiqued look. Nudes will become very popular for blondes; soft powdery tones against the skin.
How it was like working at New York Fashion Week with such talented designers and how she decides on hairstyles for models with different hair types …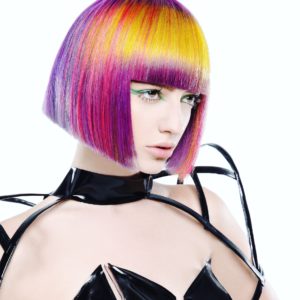 There is usually a lead stylist that communicates with the team on the look and what the designer is looking for. It's a great experience and is completely fast paced!
Her Instagram feed is filled with intricate, bright hair colors and precision cuts and discusses whether it's her personal style …
Ha…. Did not realize that!  I love all sorts of colors and textures but I guess you are right. I gravitate to bold colors and graphic lines. Maybe I should make sure I start showcasing those other looks I do.Shares the themes and inspiration behind her hairstyles and colors …
Many times I look at the overall fashion trends and I watch everything that is around me. Sometimes the most little things grab my attention to more bolder, strong ideas. For example, the other day before a huge storm, I noticed the sky was dark and scary looking but the colors of the grass, trees and everything else around me was bold and bright. That is inspiration! Another example is the texture of seeing feathers and metal mixed together. I thought the look of that was interesting and came up with a design of color infusion ba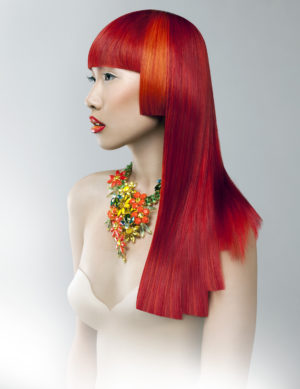 sed off of that!
Discusses whether education as well social media interaction is essential for people in the hair industry, especially in this era …
Education is super important!  It is the key to success. I am always looking at different classes or seminars to better my skills. Social media is a great visual learning aspect but going to an actual class will help you better your craft.

Shares her favorite Schwarzkopf Professional product she mostly uses …
There are many things I love. Color wise, I love ColorWorx, Essensity Color Line for toning and of course BlondMe. Product wise would be OSIS SESSION LABEL. Love it all!
Tells us who colors and styles your hair, whether she likes to experiment with different colors or stick to one look and the hair color that appeals to her …
I am always changing my look, either color or cut. I would have to say in the last year, I stopped changing my look but I personally felt like I looked a bit boring. I look at hair as an accessory. It can show your personality or keep it 'hidden.' So recently, I just changed my hair again. A little bob that is now turned into a magenta red. I feel bad for myself!
You can check out Rossa Jurenas's  latest posts and updates on:
Images provided by Rossa Jurenas