Wigs From Scratch: Interview with Wig Maker Maurice Neuhaus
Maurice Neuhaus is no ordinary person. Born and raised in Frankfurt Germany, Maurice was nine years old when he knew what he wanted to do with his life. It took one look at man performing in drag on a television program and he was set.
After pursuing his dream – and facing the challenges that come along with it – he is now a drag performer, professional actor, makeup artist as well as the owner of his own business, Wigs from Scratch, that creates custom handmade lace front wigs and hairpieces.
He's also added wig maker into his incredible resume, having built wigs for numerous Broadway productions such as The Color Purple, Wicked, Les Misérables, Rock of Ages and much more (Wig design by Tom Watson and Charles LaPointe). For wig masters Renate Leuschner and Victoria Wood, Maurice worked on wigs for Viola Davis, Halle Berry, Barbra Streisand, Bette Midler, Jennifer Lawrence, Jennifer Hudson to name a few.
Now that he has his own business, Wigs From Scratch, he focuses on performers, on 'every day people' who want more or different hair and on people who suffer from medically induced hair loss.
Get to know Maurice more …
How the name Wigs From Scratch came about and how it all started …
Well, when I started my business, I wanted the name to say exactly what I do…so I thought since my wigs are literally made from scratch, like a homemade cake or pastry (instead of using a cake mix or a store bought cake. I thought it to be the perfect name. When people hear it, they know exactly what to expect and what I do.
When I was 18 years old I started doing drag, female impersonation. After a few years of perfecting my make up I wanted to have custom lace front wigs but I couldn't afford them, so I decided to learn how to make them. (This was in 2002 before store bought lace fronts from China were available everywhere).  I bought lace and a ventilating needle and showed up unannounced at Bob Kelly's wig shop in NYC. I asked him if I could sit next to one of his workers to learn how to ventilate, and he said 'No, we don't do that'. I begged him and told him that I really wanted to learn, so he changed his mind, sat me down and showed me how to tie hair into lace. He said 'practice, I'll be back in an hour'. After an hour he came back and saw that I had made considerable progress and told me "Come back tomorrow, I'll show you something else". So over the course of the next year, I went to his wig shop whenever I had time to work on my own drag wigs. Then, after a year I started working for Tom Watson and Charles LaPointe who are two of the most successful Broadway wig designers in New York. In addition Tom Watson is the head of the wig and makeup department at the Metropolitan Opera. After seven years of working for these great guys, I moved to LA and started working for two of the five major film wig makers in LA. Renate Leuschner (who used to be Cher's wig maker for over 30 years) and Victoria Wood who has made wigs for Viola Davis, Barbara Streisand, Forest Whitaker, Jennifer Hudson, Melissa McCarthy and many more. Working for all of these great wig masters really gave me an entire arsenal of techniques, tricks and tools. Now I pick and chose from everything I've learned from them and along the way of course, I have developed my own signature techniques.
A clip of Maurice at work. 

"Notice that each single hole is used to insert a single strand of hair" – Maurice Neuhaus
Describes a day of Maurice Neuhaus …
To make a custom wig I start with a consultation with my client where we talk about what he or she has in mind and what our options are. If we move forward with the piece I do a fitting. I take a mould of the client's head and measurements. Then, if possible, I usually buy the hair with the client together. That way it is exactly the colour, length and texture he or she is looking for. Then I take the mould and build a custom wig block, which is an exact replica of the client's head. Once that is done, I build a custom foundation on the wig block. Lastly, I start knotting/ventilating the hair in. So, on any given day I could either just be ventilating or be doing any of the steps I just described.
Shares where he gets wig ideas from and his creative process …
I really focus on my client's wishes. They usually come to me with an idea of what kind of a wig or hairpiece they would like, and what it should look like. Then I make suggestions to take that idea to the next level. I always try my best to exceed their expectations. Which in many cases involves lying in bed at night thinking of the best way to build the wig or hairpiece. Even though I've build hundreds if not thousands of wigs in my life, I really approach each piece with an open mind. I am constantly asking myself 'what is the best way to build THIS particular wig, how can I make it look even more realistic'.
Discusses whether there is a difference in terms of wig style and design in both theatre and onscreen media as well as for drag queens and if there are any certain specifications/needs and challenges in both fields  …
Yes, there are major differences:
Film/TV and 'street wear' wigs are the highest quality of wigs and take a considerable amount of time to build. They need to be extremely detailed because the camera is up close and shows every single hair. For these wigs, the entire top/crown and front is done with knots that only have one or two hairs in them, which means you need to put a lot more knots into the wig, which is more time consuming. You also have to use HD (High Definition) lace for the hairline, which is more fragile, which means knotting the hair into the lace takes longer. The other
difference is that you need to use the highest quality hair. All these aspects make these, the most expensive kinds of wig. These wigs take about 90-100 hours to make. Theatre wigs, don't have to be as detailed as film wigs because in many cases the audience is at least 20 feet away. These wigs take about 45-55 hrs to build.
For my drag clients, I usually use a machine made synthetic wigs and add a custom hairline/lace front to it, to make it look like the hair is growing out of the person's head. Its not worth it or necessary to build an entire wig from scratch for a drag performer, since the wig should have a lot of hair in it, as opposed to a 'realistic film wig' which cannot have too much hair in it. For drag queens I recommend synthetic wigs because they hold curls and hairstyles much longer and are not nearly as hot as human hair wigs. These are the most affordable kinds of wigs.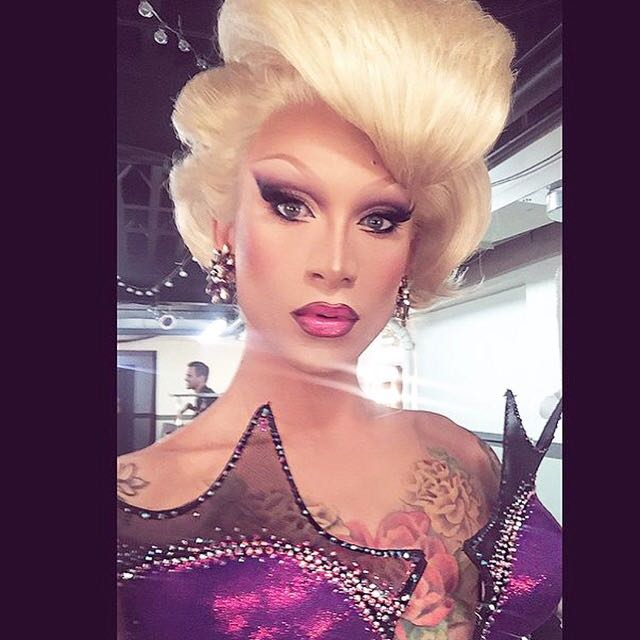 "

Famous Drag Queen 'Miss Fame' in her custom lace front wig made to look like the hair of Linda Evangelista in the George Michael video "too funky" "- Maurice Neuhaus
The hardest wig ever worked on …
The hardest wig I've ever built was for a woman going through chemo therapy. We decided together to cut off her hair before she started the treatment. Then I used her hair to build a wig for her. Usually the hair from one person is not enough to build a wig, but luckily she had a lot of hair with beautiful grey colouring, lighter grey in the front…darker grey on the back of her head. I didn't want to loose her beautiful colouring when I built the wig, so I told the hairdresser that cut off her hair, to section off her hair into several rows, divided into 2 inch squares, rubber band little pony tails, cut off the hair, and label it for me. Then when I knotted/ventilated the hair into the wig I put it in the exact same place where it had been on her on head. It was very nerve wrecking, since I only had her hair to work with. Had I run out of hair, I would not have been able to go and buy more hair….but it worked and it looked just like her own hair.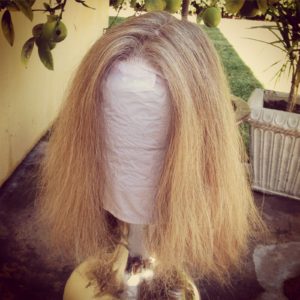 "The Grey Wig that was used to make for the cancer patient using her own hair (hair still needs to be styled and cut)" – Maurice Neuhaus
What being a wig maker requires …
You have to be very, very patient. It really takes a certain personality to be a wig maker. You have to imagine that a big part of your job is sitting still and knotting hair into the wig. You have to be very detailed and good with your hands. When I tell people that I tie knots with one hair at a time they usually look at me like I am crazy…LOL…Its not everyone's cup of tea as the Brits would say.
Shares what it was like working with Bob Kelly, Broadway wig maker and makeup artist, and the most important lesson he learned from Bob that stuck with him till now …
After a few weeks of being in Bob Kelly's wig shop as an apprentice, he told me 'you're gonna make a living as a wig maker'. At that time I had no intention of becoming a wig maker, I just wanted to make wigs for myself. But I guess sometimes it's easier for someone else to see something in you, that you yourself don't see.
Describes ventilating hair …
Ventilating is the process of knotting the hair into the lace, the foundation of the wig. People often compare it to rug making, just on a minuscule level. You fold some hair into a loop in your left hand, then with your right hand, using a ventilating needle (like a miniature crochet hook) you go under the lace, catch a hair or two and knot it into the lace.
"Ventilating the crown of a wig one and two hairs in every hole…" – Maurice Neuhaus
Explains more about how he customizes wigs for cancer patients, using their own hair before they start chemotherapy, and the process …
Its basically the same process as I described earlier. Except most of the time I do not need to label the hair since its usually one colour. As I mentioned earlier, usually the hair from one person is not enough, so I do have to add hair to the wig that I buy from a hair supplier.
Not only is he a wig maker but also an actor. He names some of the movies he starred in …
Yes that's true, I was in the film 'Between Love and Goodbye', in an episode of the showtime series 'Nurse Jackie' opposite Edie Falco. I am in the short films, Ultimate Happy, The Chihuahua Complex and Cobra's Wish. On stage I could be seen in productions of The Importance of Being Earnest , Cabaret and the Heidi Chronicles. I've also done voice overs for clients such as, Coke Zero, Rolex, Volkswagen, Lincoln Mercury and Berlitz to name a few.
How he manages between acting, wig making and drag queen consulting …
Its really not that hard, since I am my own boss, I make my own schedule.
He's a man of many faces and has impersonated many celebrities over the years. His favourite to impersonate is …
My favourite celebrity to impersonate was Lady Gaga. She has great costumes, great music and I got to dance, which I love.
Having worked on many projects, the one that inspired him the most is …
I would have to say my client with the beautiful grey hair who went through chemotherapy that I mentioned earlier. After I built the wig for her out of her own hair, she ended up never wearing it. And even though I put so much effort into the wig, I was so happy for her. She found the strength to accept the situation and to be comfortable without her hair.
To me that was very inspiring.!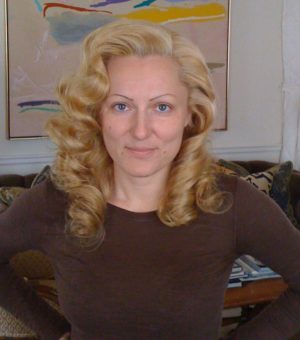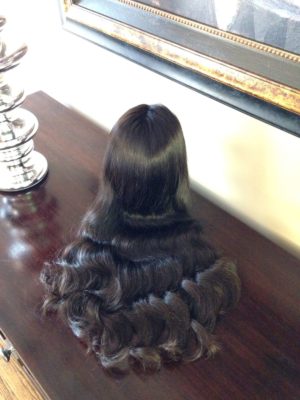 As he recently visited Dubai for work, Maurice shares what shows he participated in and whether he enjoyed his time in Dubai …
I also work for the pop singer/songwriter SIA. I am responsible for her dancers wigs. I put them on the dancers, secure them, style them, clean them. Whenever she has a show or is on tour, I travel with her. She was performing at the Dubai World Cup recently, so I got visit Dubai. I especially loved the spice souk and old town. We also went camel riding in the desert which was amazing.
The best advice given to him was …
One of my favourite quotes is "Life is 10% what happens to you, and 90% how you react to it". Of course there are terrible circumstances where this doesn't apply. But usually you have a choice how you react to events in your life. Ultimately like "A Course in Miracles" tells us, everything has the meaning that you ascribe to it. We don't know why anything happens so why not assume that it is for your own or someone else's higher good and live more peacefully.
Beauty advice and tips when choosing the right wig is …
l always like adding roots to wigs, I think it makes them look so much more natural. If you buy a human hair wig, see if the store or your hairdresser can dye roots into it. Trust me it makes a huge difference. The other advice I would give is, to have the wig custom cut while you are wearing it.  A lot of wigs come in, what I call, a typical 'wig haircut' which makes them look pretty 'wiggy'. When you have your hairdresser cut the wig a bit differently, it'll look less like a wig. Also, try to buy a wig with several colours in it. If it's a human hair wig, you might be able to have your hairdresser colour in some highlights and lowlights. For synthetic wigs, you can actually colour in roots and lowlights with permanent markers, which are sold in art supply stores. And lastly, many wigs have too much hair in them, which makes them look very unnatural, if that's the case, you can have your hairdresser or the store thin it out for you. The important part here is to cut out the hair right from the wig cap. Imagine when you get highlights and your hairdresser sections your hair off and with a tale comb selects a few irregular strands of hair…he or she should do that, and then cut that hair off. That way you can get rid of bulkiness and a wiggy look, which doesn't work if you only cut layers into the wig or cut some of the hair shorter. However, do not thin it out in the crown otherwise you will see it.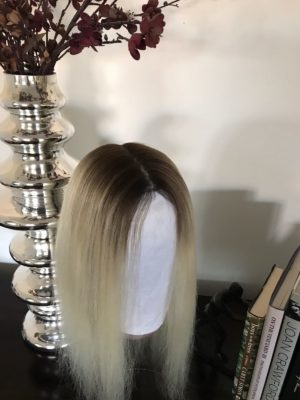 "Custom made hairpiece with shaded roots, giving a more natural look" – Maurice Neuhaus
Wigs from Scratch is based in Los Angeles, California. Check out Maurice Neuhaus's social media channels below:
Website: www.wigsfromscratch.com
Instagram: @wigsfromscratch
Facebook: Wigs From Scratch
Images and videos provided by Maurice Neuhaus