Dimitris Maggos: The Global Redken Artist
Dimitris has inherited many titles throughout his career: Global Redken Artist, Educator and Salon Owner. There's nothing Dimitris can't do! From educating the Redken team within the Middle East and Greece to participating in shows internationally, Dimitris shows experience, skill, and passion in the brand he represents "
Redken".
♦                               ♦                                 ♦                          ♦                           ♦
Who is Dimitris? Can you share with us your career and professional background with Redken? What can you tell us about yourself that people do not know?
Being in the field of hairdressing the last 25 years, I graduated the Toni & Guy Academy in London in 1992, and worked there for two years. Then I returned to my hometown and I worked in the family business (Studio DM hair saloon) for five years. In 2000 I started my own business ''Hair Group'' and five years later I  expanded it by opening ''Hair Group Saloon''. I worked as an educator for ''REVLON'' and ''American Crew'', and for the last ten years I have been cooperating with REDKEN as an external associate. Starting as a Redken artist, I evolved through ''GMP(Global Mentorship Programme) ''  in New York, and reached from tier 1 to tier 4 (the highest tier) in approximately seven years, conquering the title of ''GLOBAL REDKEN ARTIST''.
My first educator in the family of colors was my mother, because her profession at that time was chemist with an expertise in colors.
You manage and own two reputable hair salons in Greece, ''Hair group and Hair group saloon''. Do they both offer the same services and do you work in both salons? How do you manage between educating with Redken and salon work?
''Hair Group'' is a unisex saloon and ''Hair Group Saloon'' is a barber saloon. The standards at both saloons are very high, offering a AA quality of services. I work three days per week as a stylist in my saloons and the rest of the week as an educator for REDKEN, travelling around Greece and the whole world.
What ignited the spark in you to start a venture in educating or to make significant changes in an existing business? How did the idea for your business come about?
I am a passionate with my job. I love hair, I love my clients but I can' t stay in one place for too long!!! I also love teaching! So I found a way to combine my two passions! I really enjoy to travel and teach the art of hair in colleagues and other hair dressers. Now I have my own education brand working also as a free lancer.
You are the Global Redken Artist. What are your commitments and responsibilities? Can you entail on what you educate hair stylists?
As a global Redken artist I have two education fields; on the one hand  to train other Redken artists in presentation skills and in the ''triangle of education'' , and on the other hand to educate other clients (hair stylists) in hair skills as colors, design and all the principles of the brand.
My new project in teaching is the principle base of consultation.
When did you start representing Redken and do you only educate within Greece or Internationally?
I started my cooperation with REDKEN ten years ago, travelling all around Greece and the last four years as a Global Artist I educate internationally.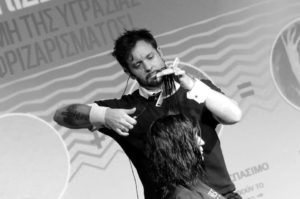 Middle East has been one of your destinations for training. What is your thought on Redken colours, hair products etc… for this region as Middle Eastern hair color differs to European hair?
As far as the skills of the hair stylists is concerned, they are at an exceptionally high level. As far as the brand is concerned, the hair stylists of the Middle East really enjoy working with it even in difficult situations, since the challenges are bigger because the majority of hair there are hard to handle. Unfortunately, color is not yet quite present in the Middle East, but because of the fact that the Redken Tribe is ready to embrace them, it is our new goal for the year to come.
You have also been a Technical Instructor for many hair brands. Can you mention the brands and company standards that are needed to practice?
The brands I have worked with are ''REVLON'' and ''AMERICAN CREW'', but I really enjoy working with REDKEN because education in REDKEN is really something else!!! REDKEN is acknowledged to have what we call ''academical training'' and can actually build the educational environment for a hair stylist to update his skills, through basic principles of hair dressing.
Tell me the importance of coaching and personally investing in your team? How often do you meet with them, and how do you think this impacts your team?
The most important thing to teach to my team is to enhance them with the philosophy of the brand and to help them grow their transmissibility skill. I always have one or two artists as facilitators in my seminars, in order to help them evolve through this whole procedure and I also manage to meet with them all at least three time per year. These meetings are crucial to us, as we achieve the bonding we need in order to be better.
What has been your proudest moment and biggest accomplishment so far as a Global Redken Artist?
My first time to REDKEN SYMPOSIUM in Las Vegas working in front of 11.000 people!!!!
Can you mention some of the hair shows that you have participated in, what and where?
Apart from my shows all over Greece, which number about 20, the Redken Symposiums in Las Vegas,  Barcelona, London, Berlin. As a free lancer, I have been in Cyprus, Barcelona, Madrid and Turkey.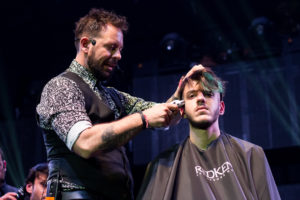 Piece of advice that was given and stuck with you or helped you.
''The more skilled you get, the more humble you should be''.
What do you
think about the current state of hairdressing?
The level in hairdressing is higher than ever, we have jumped in more emotional ways, where hair dressers touch their clients' feelings and make them happier their work  outcomes.
What would you say are the top three skills needed to be a successful Hairstylist?
Passionate with your job, be open to new knowledge and be a good listener.
Who inspires you and which creative hair colorist do you follow?
I really enjoy sitting in capitals squares and watching young people walking around. I get inspired by them and this way I kind of touch the heart-beat of the street fashion.
I am really fond of Sean Godard 's work, Adam Brown and Josh Wood!!
What is the biggest challenge in your job? How do you manage this challenge?
To manage between creativity and commercial. This is my motivation to create innovation which combines both new fashion techniques that are at the same time acceptable by the clients.
What do you do in your spare time?
I love to cook for my friends and enjoy the sea of my island!!!
Which Emoji best describes you? Which Emoji best describes hairdressers?

  cause I love to blink my eye at life!!!
When was that first moment when you thought ''l made it''?
When I got accepted by the GMP Programme at the Headquarters of Redken in New York!
Thank you for taking part in this interview. Is there anything you would like to add or Share with our readers that we haven't covered?
Firstly, I d like to thank you for your smart and challenging questions! I really enjoyed your interview! What I want to share with people that make their first steps as stylists or as educators is the following :
''It doesn' t matter where you reach to, what matters is where you start from, and we all start from the same level''.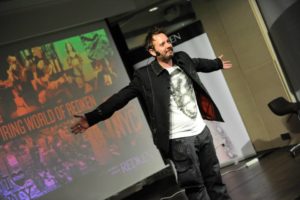 You can follow Dimitris on…
Instagram @Dimmagg
Facebook Dimitris Maggos/Hair salon educator dimitris maggos