Nicolas Jurnjack: A French Hairstylist's Journey of Creativity
1.2K views
15

minute read

"Hair is vibrant and alive for me – I respond to it and it responds to me," says Nicolas Jurnjack.
Nicolas Jurnjack is a household name in the fashion and beauty industry. French-born hair stylist, Jurnjack landed his first Vogue cover in his twenties and, since then, has been working for high-profile, international fashion magazines and for advertising campaigns. His attention to detail and bold approach to his creation can be seen in most iconic names that include Alexander McQueen, John Galliano, Alber Elbaz and many more. This year, the award-winning hairstylist released his first

book

In the Hair.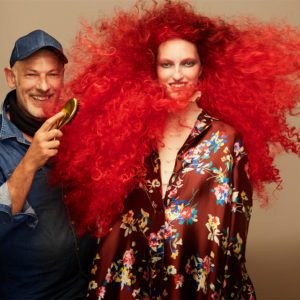 Nicolas, can you share a brief summary of your career and your recognition in the hair industry?
I moved to Paris from Marseille while still in my teens intent on pursuing my dream of working in the fashion industry as a hairstylist, fashion's explosive creativity enthralled me. When I was in my twenties I got my first Vogue cover, and was also honored with an invitation to create hairstyles for the Festival of Fashion at the Carrousel de Louvre.  As my career took off, I started working with all the major fashion magazines worldwide and on advertising campaigns. For a decade or so, I worked with many of the top fashion designers creating the hair look for their Haute Couture and Prêt-a-Porter runway shows around the world.  As Creative Director for a hair product company I created the cuts and trends for the upcoming seasons and I also contributed to Vogue Australia and other titles as a freelance Creative Director on fashion shoots.
I have always been passionately interested in organic hair care and finding ways to share my knowledge. In the last few years I have become involved in education. I have given talks and seminars and chaired question and answer sessions at universities, private beauty schools and public schools on the art of hairdressing and hairdressing as a career, as well as designing seminars and courses to invigorate students, set-alight their passion and lay a solid foundation for a successful future in the hair industry.
My first book In the Hair was published this year in French and English.
I am proud to have been invited to give a lecture at Mondial Coiffure Beaute (MCB) September 2017, in Paris.
''Hair is what you make it''. What is hair to you?
Hair is my medium of expression. Hair offers me the freedom to develop, discover and express myself. Hair is vibrant and alive for me – I respond to it and it responds to me.
"What I can say from my experience is that ideas and vision are only valuable if you have the technical skills and mastery to realize them."
You have worked alongside some of the most influential names including Alexander McQueen, John Galliano, Alber Elbaz, Givenchy, Nina Ricci, Jean-Paul Gaultier to name a few. What was your most memorable experience during these fashion runway shows? 
That's a tough one. Fashion shows are spectacles of artistry, vision, imagination and aspiration and the experiences I had working on them for more than a decade were unforgettable, awesome.
One experience I will always remember is when Vidal Sasson sought me out after a runway show, he congratulated me on the hair concepts and execution and invited me to talk hair. I felt extremely honored, and especially so when the relationship continued with several more meetings in different cities around the world.
You've also worked with high profile models including Kate Moss, Naomi Campbell, Adriana Lima and Bella Hadid, including actors, singers and celebrities such as Kirsten Dunst, Kristen Stewart, Alicia Keys and much more. What is your approach and creation when styling? 
To steal a quote from Oscar Wilde "her power of appearance"
– the presence she exudes, the type of atmosphere she creates when she appears, the way she moves, the way she dresses. I look at whether she lowers her head, whether she looks at those around her, whether her hair is loose or tied, what she does with her arms, her hands, what happens when she stops moving. Those elements are the fuel I use. They can provide me with a spark.
Excerpt from In the Hair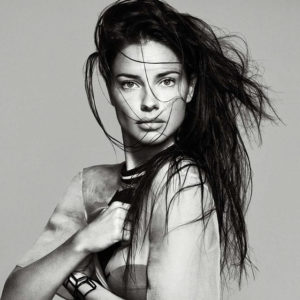 Adriana Lima Harper's Bazaar Spain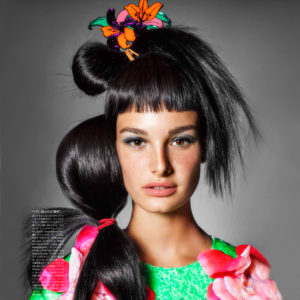 Flowers Brunette for Vogue Japan
Do you believe that many hairdressers can easily have the talent to style for runways and editorial magazines, better yet, follow in your footsteps?
That's an interesting question. There are and always have been talented individuals, many working today and others preparing a path for their future. What I can say from my experience is that ideas and vision are only valuable if you have the technical skills and mastery to realize them. However talented you are if you can't deliver at a high level and keep excelling and within the constraints set it won't count for much in the business of fashion. Even though the medium – hair, is the same, there is a huge difference between working on a campaign, an editorial, a cover, a runway show, with celebrities, as a consultant, creative director…
For example, a fashion show, which is an event, demands that you think in 3-D. A simple dancer's chignon tied at the nape of the neck or spectacular volumes behind the head go unnoticed at first glance when the model first appears on the runway. Only when she turns do these volumes reveal themselves. Even music is a player in an event like this. I once created long braided ponytails with heavy ends so they would bounce in time with the models steps that followed the beat of the music.
An editorial is totally different, it is 2-D, the movement frozen in time, you can shape the look, tame a wayward tress, finesse the style before each shot. If any errors are made or something does not look quite right there is always a last option – retouching.
Great teams and teamwork are of course optimal across the board but for a fashion show this is make or break. I had stellar assistants in my atelier in Paris, hardworking, passionate, skilled, without that kind of dedicated and harmonious support it's impossible to do a show however spectacular the ideas and however much talent someone has.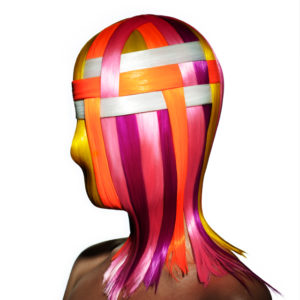 Your sculptured hairstyles are all creative and your ideas are unique. How do you come up with the look and do you use many hairpieces or extensions? 
I'm curious by nature. My inspiration comes from myriad places, nature, history, light, shadow, architecture, music…
" This morning, walking through Paris, I remember a store window –  the pink of a bag in vinyl for a little girl and the brown-brown colour of a vase not really fitting to form, a little unusual. That will serve me for later. Or not.  For what I have no idea. But it remained with me. I note. I accumulate. I fill my store with ideas, my little market of sensations and perhaps something will resurface unexpectedly during a show or an editorial. These lucky finds feed me. The chance encounter smiles at me".
Excerpt from In The Hair
The final creation, how it sits on on the models head – I take my inspiration from the model, it's intuitive. Every model deserves a touch that is unique to her. Whether I use extensions or hairpieces is very much dependent on the concept, the desired result and the models hair; I always have a wide selection with me on shoots.
At 27, you were invited to create hairstyles for an artistic exhibition for the International Festival of Fashion at the Louvre Museum. Who was your model and photographer?
I was honored to work with Jean Loupsieff a photography legend in the fashion world and Olga Pantushenkova a beautiful Russian supermodel. I created the hairstyle with pieces of paper I had cut into different shapes and lengths.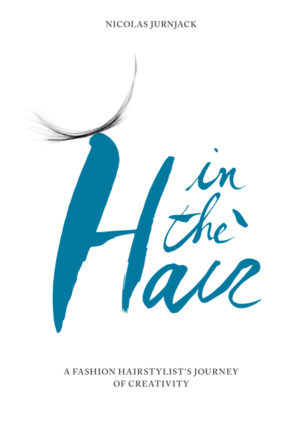 You have launched your book, In the Hair. What is your book all about? What does it enlighten?

I invite the reader to follow me behind the scenes of fashion on a journey of discovery and adventure. It's a reflection on hair and beauty, creativity and aspiration through the lens of my trajectory in the fashion industry, animated by anecdotes, ideas, memories, conversation, daily life and the people I meet along the way. The book discusses the history, politics and culture of style, hair, woman's aesthetics and the business of fashion, it talks about the importance of knowledge, education and imagination and never giving up on your dreams.
Your collaboration in international fashion magazines include Vogue, Harper's Bazaar, Allure, and Elle and working with world-known photographers. When was your worst hair moment and when was your exciting moment?
Exciting moments!  I have had so many it's tough to choose, but harmonious teamwork is a theme. I love teamwork. It invigorates me. I was doing a shoot for Vogue Italia when the editor asked me to come up with an idea on the spot, something unique, different, a statement about hair.  It was total creativity, no limits, no mood-board, no marketing constraints. Immediately ideas started bouncing off the walls – how best to achieve the look with the make-up, the angle, the image, the light, everything. This kind of creativity and harmony makes me delirious with joy. For me, sharing is the best way to keep the mind alert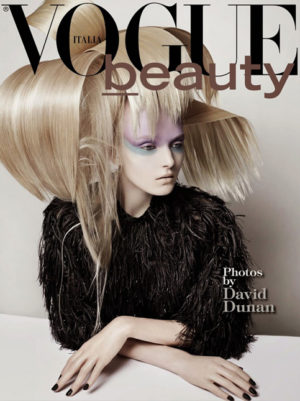 I have had my fair share of nail-biting moments that tested my imagination, resourcefulness and skills. For the first 10-15 years or so of my career I traveled to every continent: to the peaks of mountains, the middle of a desert. I styled hair, on glaciers with gales blowing, on remote islands in the Pacific where the air hung heavy with humidity and created bouffant hairstyles in India on streets teeming with people and a monsoon bucketing down. Exotic, awe-inspiring locations were daily fare back then. Many a time I had to come up with innovative solutions to deliver a look:  bags were lost or confiscated at the   airport, hair serum solidified in freezing locations, hairspray evaporated in the desert heat, hair froze into a brittle mass and on moving further up the mountain to take in a spectacular backdrop, broke into pieces when touched. One time we were heading to a remote village, hours away from the equally remote airport we had arrived at where my toolkit had been confiscated. There was not a store in sight. When we arrived I approached the people from a nearby village who had gathered, curious to see what we were up to.  They loaned me what tools they had, not all of them made for hair, but with some improvisation I was able to deliver the look. They saved the day.
What has been your proudest moment and biggest accomplishment so far?
In my heart it was was while working on fashion weeks all over the world: Paris, London, New York, Tokyo, Sao Paulo, Berlin …  for a decade plus and being able to come up with and realize a huge variety of different and concepts for each of the forty or more models in the shows. There were medieval-punk based shows, elaborate gravity defying haute couture coiffures, multiple variations on 80s jet-set glam, natural raw textures set ablaze with colored gels I cut into shapes and added to the hair, flowing locks with myriad textures. I even made hats out of hair for each of the forty models for one show. I am most proud that I made sure that every model, from the most famous to the new faces, walked down the runway with an accomplished look. Backstage on a fashion show, (at least for the decade or so when I was doing shows consistently) resembled a rugby scrum with everyone descending on the model, jostling for position for last minute finessing before she walked. With my amazing team of assistants, we managed to organize everything from concept to preparation to execution to runway so that we finished with all the looks perfected and polished with a unique touch for each model and time to spare – even fifteen seconds is worth more backstage than gold. I had a production manager we affectionately called La Police who was calm, cool, masterful, not a second escaped her.
It is devastating if a show, especially one with a huge TV audience, appears half-cocked or similar to another show, even the faintest whiff of that or the tiniest forgotten or sloppy detail detracts from the experience as a whole for everyone involved.
Above all, I have to say I am super happy that I am still eager and enthusiastic about what I do, I am still filled to overflowing with ideas and excited about the future, I have kept my respect, passion and integrity for hair and I am still in the business and in demand three decades down the road.
"It's very rewarding when the person I am working on discovers exactly how she wanted to see herself in the style or cut I have created for her – in essence, with her."
What special skills and qualities do you need for your job?                      
Fashion is ephemeral – constantly changing, reinventing itself. It's not enough to build on knowledge and learning, to expose yourself to history, culture, art, trends, practice techniques to a high level of skill, you have to develop and finetune your own aesthetic sensibilities and techniques to stay in the game, you have to believe in yourself and your ideas.
The more rigorous, disciplined, deep and wide-ranging, your learning, the freer you are to create. This store of knowledge is a solid support, it liberates you to pursue your vision, to contribute to the creative conversation and come up with new ideas, it hints at horizons beckons you beyond. Never stop learning!  Another skill that people rarely think of in this context is endurance, you can be flying to three, four timezones or more in as many days with no downtime and you are expected to deliver at the top of your game, every time.  Looking after you is key.
With that in mind, one of the most important skills for longevity in this business is the ability to work harmoniously in a team (you meet new characters and personalities every day), and knowing when and how to push your ideas but not be pushy.
Who would be your ideal person to style, or give a complete change and why?
To me it's always a fascinating journey whomever the person. I take my cues and inspiration from the client, their relation to the space around them, their silhouette, the way they move, how they see themselves, what they want to proclaim to the world, their individuality, and the raw material- their hair, what is its texture, quality, tone and natural fall and inclination. I always aim for harmony in the relationship between my client, her hair and me. It's very rewarding when the person I am working on discovers exactly how she wanted to see herself in the style or cut I have created for her – in essence, with her.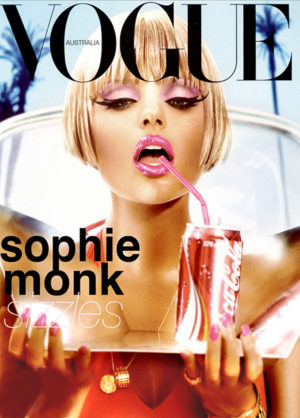 Being successful in the industry for 30 years, what would you tell the younger you?

Keep following your passion and keep learning.
When did your inspiration or passion for hairstyling and fashion grow? Your thoughts on hairdressers considering a career in hairstyling and what is the demand and challenges in hairdressing today?
The industry today is different in some ways from when I started out. I approached my profession in the fashion industry as a lifelong career with opportunities for development, evolution and expansion, I was, and still am, passionate about hair.
For a while now talented assistants tell me they see their involvement as an interlude of ten years or so rather than a profession for life. This is partly because it seems to them that commerce is doing battle with creativity and has gained the upper hand and partly because they see the industry as a revolving door with seemingly less call or room for skilled creatives who want to develop a long career. It is rather disheartening to hear, but I believe there are still great opportunities it's just that in today's world you need to invent, create and develop more of them yourself. Recently an extremely talented assistant told me that reading my book, which is dedicated to hairdressers, inflamed her passion anew, that made me very happy.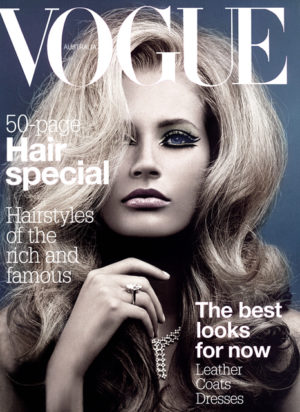 Before digital and social media there were fewer people in the studio (and in the industry), there was time for ideas to flow, for experimentation, for creative exchanges. Today there is less opportunity for this – what was a six-day shoot has been squeezed into three. The studio today is more likely to be abuzz with digital techs, social media editors and behind the scene shooters than with creative conversation. Social media is voracious. But, interestingly this 'lack' in the studio setting has resulted in the evolution of new spaces that offer exciting and novel ways of initiating and carrying on these conversations, and with much wider audiences and across disciplines. There is still so much to explore and discuss.
Another big change is public name recognition and self-marketing. When I started out you built a solid reputation and raised your profile with your history, experience and work, the wider world did not have to know your name. Today it's a given that the upcoming generation maintain a visible social media presence and market themselves actively. Social media popularity is not necessarily a marker of skill or talent so there is a disconnect, but a high number of followers does attract commerce and these days more people in the industry are using social media as their go-to instead of requesting portfolios.
The upside of social media is that it is now easier to get your foot in the door and even stay for a few years on its strength alone. Decades ago the fashion world was a smaller self-contained world, elite and difficult to access. But, for someone looking for a way to develop their passion into a solid career it is the same time tested formula: the need to learn classic techniques, keep fine-tuning techniques, keep educating yourself: hair, the history of hair and other rich arts. Build your confidence, challenge yourself, take creative risks. And, don't forget about honing your communication skills, people skills are a must whether working with a client in a hair salon, an actor on a movie set or a team on a fashion shoot. A lack of conversational skills, banter, diplomacy, a lack of understanding can be damaging and limiting. Experience, knowledge expertise is an ongoing acquisition, concentrate on expanding your know-how and do not take shortcuts. Even though I've been in the business for 30 years I am always discovering new and exciting ways to fuel my passion.
If you had a photoshoot on the Eiffel Tower and were only to take three products and tools, what would it be?
Funny you should ask that dear Romyet. I worked on a Givenchy fragrance commercial that was shot on the Eiffel Tower. I knew it would be super windy so I needed to find a method to control the hair, and on the day of the shoot there was a fine misty fog which made for very damp and cold hair. I decided on a curling iron and a paddle brush and I took two products: hairspray and serum. I used the serum for a brilliant shine and to add weight to the hair to counter it being constantly whipped up by the wind and the hairspray to control the frizz and set the style as far as was possible. I needed to keep the technique simple because I knew I would have to redo the style completely between takes to keep it fresh.  It was a challenge.
Your website hairbynicolasjurnjack.com is more than an educational site. The tutorials are very professional. What are the three master techniques that hairstylists should remember when learning?
It's so easy to ruin a hairstyle by something as simple as failing to prepare the base well, rushing the hair or not using a tool to best advantage. With that in mind I decided to make the tutorials extremely detailed, a step- by-step approach, methodical, A-Z, with a list of tools and information on their usage.
The three techniques I consider essential are:
– The perfect blow dry, creating a silky smooth and lasting finish with no static and mega-shine
– How to tease hair, it's a basic skill but when mastered It's very versatile and applicable to many different styles: bouffant, wedding, adding glamour and shape to a simple brushing or edge and style to the simple ponytail.
– Mastering the curling iron. Curling irons come in a huge range of sizes and can be used to create anything from the tiny curls in an Afro style to the ultra-glam, sleek, luxurious waves seen in the hairstyles of silver screen idols, and in fact just about everything in between.
                         One of Nicolas Jurnjack Tutorials "A LA MODE"
Please complete the sentence. I love to chill …..
with a good book, watch the clouds and the light change, listen to music and the sound of rain.
Thank you for taking part in this interview. Is there anything you would like to add or share with our readers that we haven't covered?
Organic hair products are dear to my heart. I always use as few products as I possibly can on the models I work with – organic if available. More and more models ask me questions about the contents of the products used on their hair. They are much less inclined toward chemically based products these days; it's perfectly understandable considering their job, part of which is having their hair styled numerous times a day with many different products.
Last, but not least. to everyone, especially people who are working creatively – please, do not stop. We need a world bathed in all colors, shapes and textures, we need to nurture curiosity, dreams, passion and imagination. We need to be aspirational.
A selection of videos of Fashion Shows and Tutorials by Nicolas can be viewed on YouTube: Nicolas Jurnjack Hair
Here are his other social media accounts:
In The Hair: A Fashion Hair Stylists's of Creativity can be ordered by clicking here.
Videos and Images supplied by Nicolas Jurnjack