Caeleb Bosscher on Destroy The Hairdresser ✂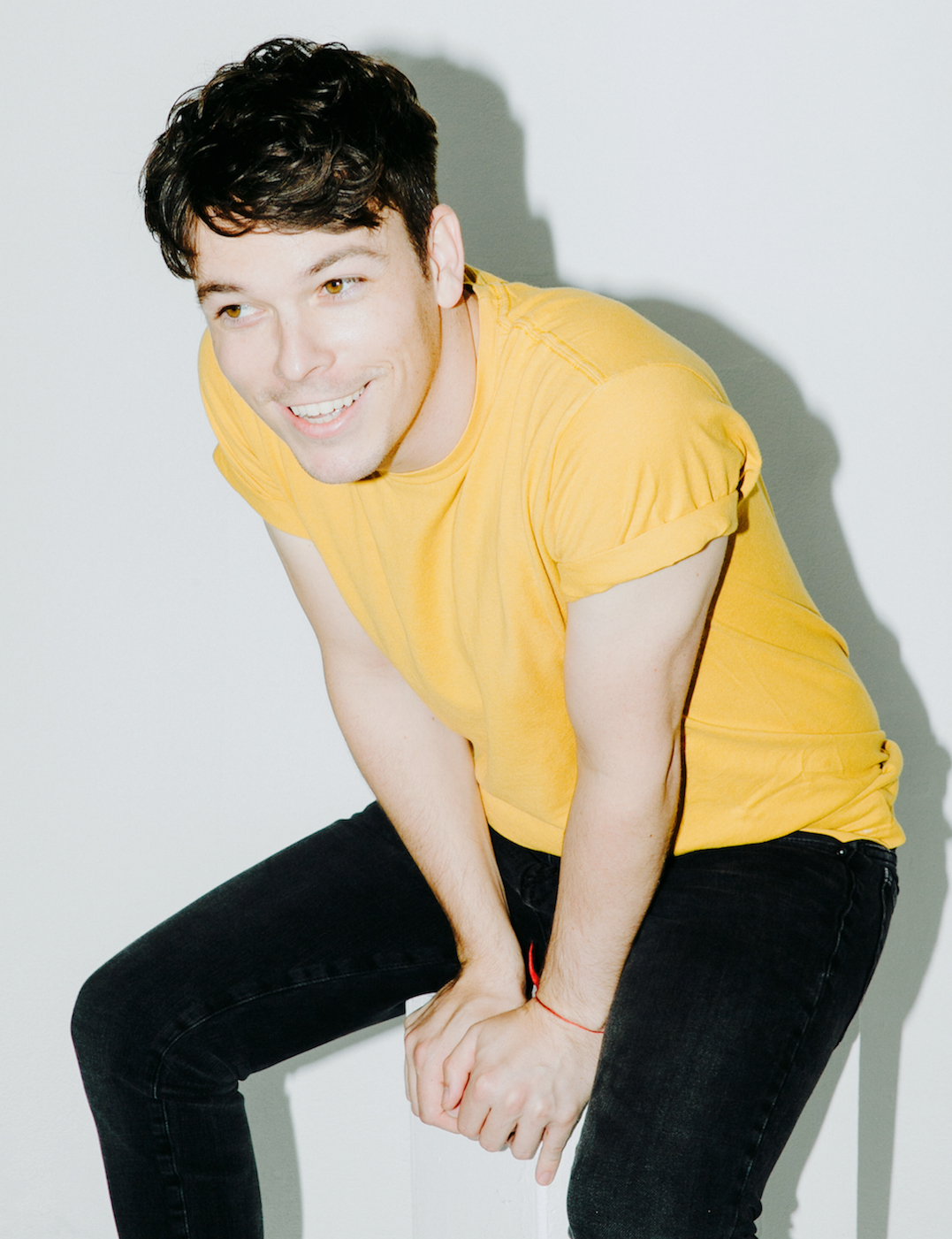 "No matter what other creative mediums I experiment with I always end up back in the hair industry," says Caeleb Bosscher, a Brooklyn-based hairdresser. "If it is my destiny to live and die in the hair industry then I am very lucky."
Caeleb knew he was destined to be in the hairdressing industry when he was just 14, the age when he started experimenting on young girls' hair before taking on hairdressing as a professional career. Now, he is the Co-Creator of Destroy The Hairdresser, a coaching program that teaches, mentors and coaches hairdressers, bringing them closer to personal fulfillment & success.
Also co-founded by Cyd Charisse, Destroy The Hairdresser was launched after both co-creators found that hair professionals, hairdressers and freelancers "were lacking real and transparent support."
When he's not too busy running his business and hosting Bleached, a free podcast that features "business topics with a twist", salon coaching and learning how to "destroy bad business", he can be found working on hair for print outlets and celebrities.
With over 10 years of experience in the beauty industry, the certified coach gives Hairblogstylist inside deets and doesn't leave anything out on our interview.
Caeleb how did you decide to pursue hairdressing as a career? Where did you train and what were your experiences and inspiration? Did you ever think you were destined to be in the hair industry?
✂ I started my career at 14, in my kitchen in norther Michigan. I was having girls from my neighborhood over and just destroying their hair with scissors. I was a true artist, with no training. Obviously parents had issues with me chopping their children's hair.
My parents received many nasty phone calls from angry parents. My father, an entrepreneur, saw the disaster as something I could harness and use to make money. He made me a deal almost 13 years ago that changed my life. The offer he made was if I went to cosmetology school in the summer I wouldn't have to find a summer job.
I jumped on the idea! I didn't want to wash dishes at a restaurant or fold clothes at a store. At the time I didn't think I would be where I am today, I simply wanted a summer with no "job". Thanks to my father I now have a strong career as a freelance hair stylist, built a successful coaching company, and live in New York City.
I trained at a local cosmetology school in norther Michigan. It was a lovely group of people but halfway through I had to move to Naples Florida. Lucky for me the state board required less hours in Florida than in Michigan and I was able to get my license when I was 17!
I don't know if I was destined to be in the hair industry but it sure feels like no matter what I do I end up back in the magical world of hair. I've always been a writer and I continue to apply to universities every couple of years just see if I can get in. I applied this year to New School University and I was accepted into their honors writing program! I still got it! No matter what other creative mediums I experiment with I always end up back in the hair industry. If it is my destiny to live and die in the hair industry then I am very lucky.
We are here to push people to win against their internal opponent, break them out of the comfort zone, break through their fears and blockages, train them for each phase of their career, scream, yell, cry, and laugh with our people.
Being a Co-Creator of Destroy The Hairdresser, can you give me an idea of what this website and training is all about? How does this online training help the hairdressers with education?
✂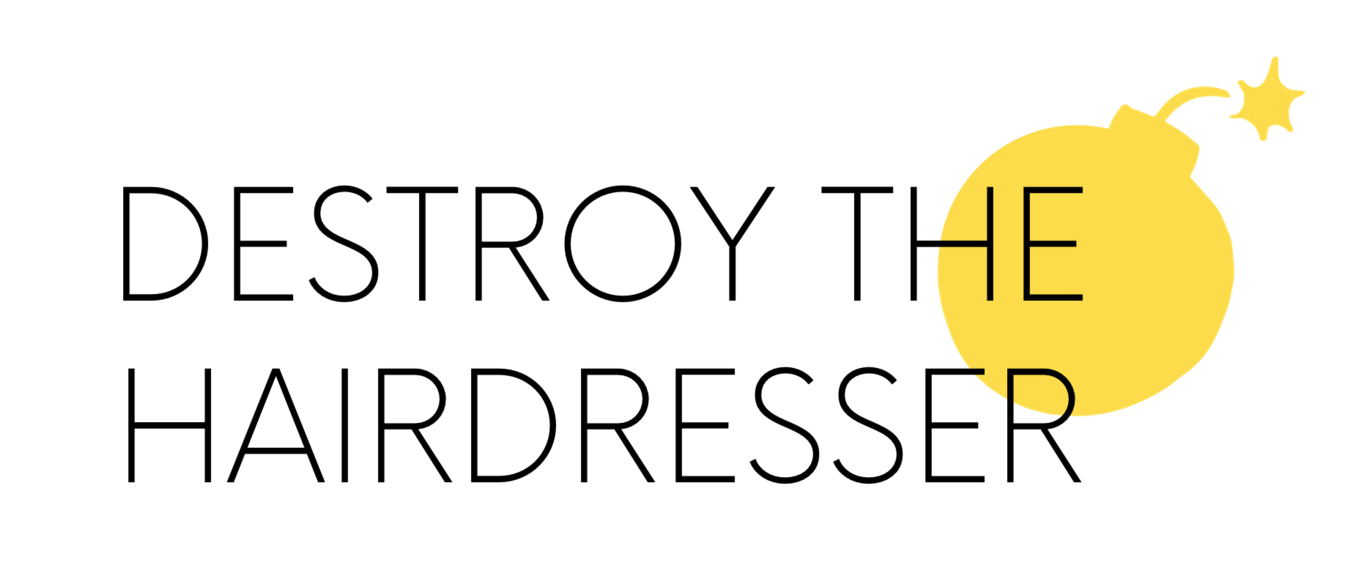 was co-founded by myself and Cyd Charisse. We started the company officially 3 years ago. However, the growth and development of Destroy The Hairdresser (DTH) has been an interesting journey. Cyd and I met in November of 2012. We worked together at the Aveda Institute of St. Petersburg Florida. The education team was asked to participate in a charity hair show and Cyd and I paired up to create something cool. We didn't know each other that well but creatively we were in sync and still to this day that show is one of my favorite pieces of work we created. Not because of the execution of the hair but because it really was the seed level of DTH today.
After the charity show Cyd and I realized that we had a lot to say to industry professionals. We wanted to rant and rave about things people weren't really talking about. We started a blog called Trichology Project. It was the first phase of the DTH you see today. Our blog was aggressive and in your face. We attracted a very specific type of professional, professionals like us! Through our blog we met our current lead blogger Kate Wright! She found us online and reached out to us expressing that she wanted to be part of whatever Cyd and I were doing. She is still working with us today, I think its been almost 5 years! I hope she knows how much we appreciate her.
Our blog was small but grew quickly in its niche. People were reaching out to us often asking us questions and for advice. Cyd and I realized that there were many professionals out there from salon owners, to those working behind the chair, and even freelancers that were lacking real and transparent support. This is when we decided to create a coaching program. Once our program was born we renamed our company to Destroy The Hairdresser.
Our coaching program is coaching in the truest sense of the word. Imagine a coach on the football field. She or he is out there pushing their team to win against the opponents, training them for their next championship, yelling, screaming, crying, and laughing with them! DTH coaching is very much the same. We are here to push people to win against their internal opponent, break them out of the comfort zone, break through their fears and blockages, train them for each phase of their career, scream, yell, cry, and laugh with our people.
What does Destroy the Hairdresser mean to you on a professional and personal level?
✂  Not everyone is ready for private one-on-one coaching so we have other options for our people! We have online classes that salons or individuals can collect to start building their own education Arsenal. We also have a free podcast called Bleached on iTunes, a blog packed full of business topics with a twist, and salon coaching for teams looking to spend the day with us and learn how to destroy bad business.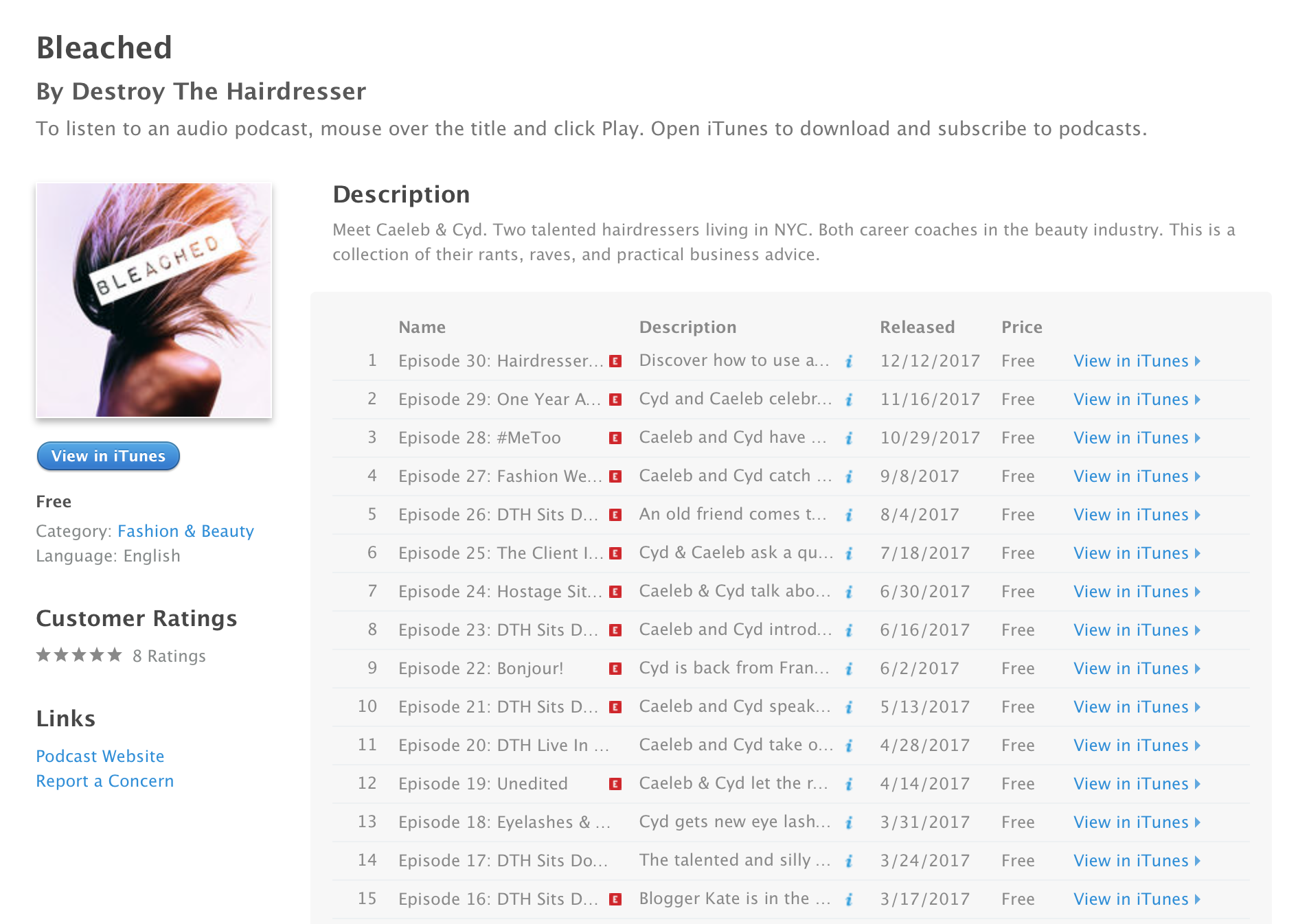 We have and always will continue looking for way to bring more content to our followers and fans. We love them more than they love us, and that's how it should be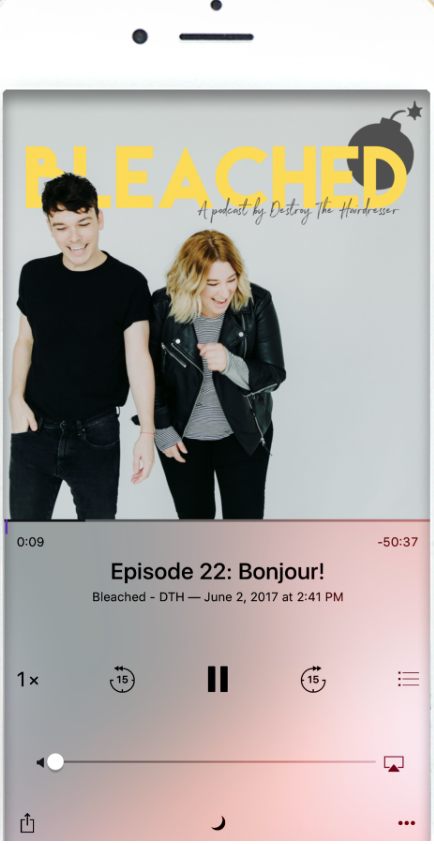 Your podcast Bleached along-side Cyd Charisse, what is it that you educate your listeners?

✂ Bleached was Cyd's idea. She is an avid podcast listener and suggested we start our own. I am not really into listening to podcasts so it was hard for me to get onboard but she was absolutely right! Thank God for Cyd. Without her this business would have stayed just another idea. Bleached has over 3k listeners in one year. I'm not sure if that is a good number for new podcasts but we are happy with the number and expect it to more than double in 2018. Each episode is funny no matter what the topic. We wanted a place where we could rant, rave, educate, and talk some shit. We talk about everyday issues and frustrations and offer easy and applicable advice to resolve these silly situations. We leave the more serious stuff for coaching. If you're not listening yet, I hope you subscribe and enjoy the ride!
How do you balance working between Destroy the Hairdresser and your podcast?
✂ There is no such thing as balance and it's all work. It's hard to run your own company, especially when there is no template for what we are doing. That being said, it's also the most exciting adventure I have ever decided to embark on. My secret weapon is Cyd. She is the manager, the scheduler, thank God for her.
The world is much different now for stylists. There are no solid career paths anymore.
You have styled hair for many designers and clebrities including Calvin Klein and Josh Groban and worked alongside celebrity stylists, Sally Hersberger and Garren to name a few. What was your proudest moment working and styling with such amazing artists?

✂ My career has honestly been such a blur from 17 years old to 27. I remember all the appreciation I've felt when working with each artist. I probably didn't show it in the moment because it goes so quickly.  I've been working on that more, showing appreciation in the moment. Every experience has built me to become the professional I am today, and sometimes I don't even know what that really means. I like to think that everyone and every job has led me to cofounding DTH but who knows what DTH will lead me to. The world is much different now for stylists. There are no solid career paths anymore. Everything is fluid. I think my proudest moments are yet to come and with each passing moment I have more and more appreciation. Thank you to all of my mentors in hair, you've changed my life.

Who inspires you and which creative hair stylist/hair artist do you follow?
✂ I have always been obsessed with Shawn McGrath. He was our first official interview with DTH. Shawn creates these masterpiece wigs out of different material. Making wigs with no hair essentially. It's mind-blowing and beyond inspiring to me. I stalked him on Instagram and finally reached out, spoke for two hours over Skype with him in Australia and me in NYC. It was awesome, organic, and we are still in touch today! So he is the main person I draw inspiration from and when I find the next person to do that for me I will add them to the list.
On our Instagram our followers tag their work. I see it everyday and I have my favorites. I don't want to mention them, I don't want to play favorites. But it's amazing to check our Instagram and see all these amazing cuts, color, and styles that really break the rules or redefine a classic. Our followers truly inspire me and we try to regram the game changers.
 Most valuable lesson you have learnt throughout your career?

✂ I've learned so many things but I think that being a hairdresser has really taught me how to have healthy relationships with others. I grew up with a lack of boundaries and this profession really helped me learn how to draw them. I actually just wrote an article on our website called  'Beauty Boundaries' that talks a bit about this.
What are your favourite hair care brands? What professional brand/colors do you work with?

✂ I pride myself on being able to work with any brand that is in front of me. I've learned through practice that products are almost all the same but range from hard to soft allowing you to manipulate hair however you need. However I grew up with Aveda and continue to love the products. I know how to break all the rules with them and that's my favorite part.

What are your thoughts on utilizing social media? How important is it to your business and to build a personal online presence?
✂ Social media is the most important part of your business. Without it, you will never reach your full potential. It's not longer a choice, it's an obligation for success. Anything else is just laziness or fear of change. Need help? We offer so many classes on this through DTH and when you work with a coach you really get one-on-one help with this hurdle.
Do you think hashtags gain more attraction and likes on Instagram posts? Is it ideal to have your own creative hashtag?
✂ The hashtag! This is a big one. It used to be the best way to spread your content around social media. Well we have something called shadow banning. Basically if you have too many hashtags Instagram and Facebook will block the posts from seeing the light of day! Better to stick with 5 hashtags, one of them being a unique hashtag of your own.
Describe your personal style.
✂  Oh man. I'm a minimalist. I wish I had more style but I'm more of a get up and go type of personality. I believe there is a term for my style "athleisure". I love athletic clothing makes me feel fit even when I'm not! 😉 I stick with all black but usually add one color piece somewhere in my daily ensemble. I coach a fashion expert I have yet to ask him for a wardrobe makeover but thank you for the reminder.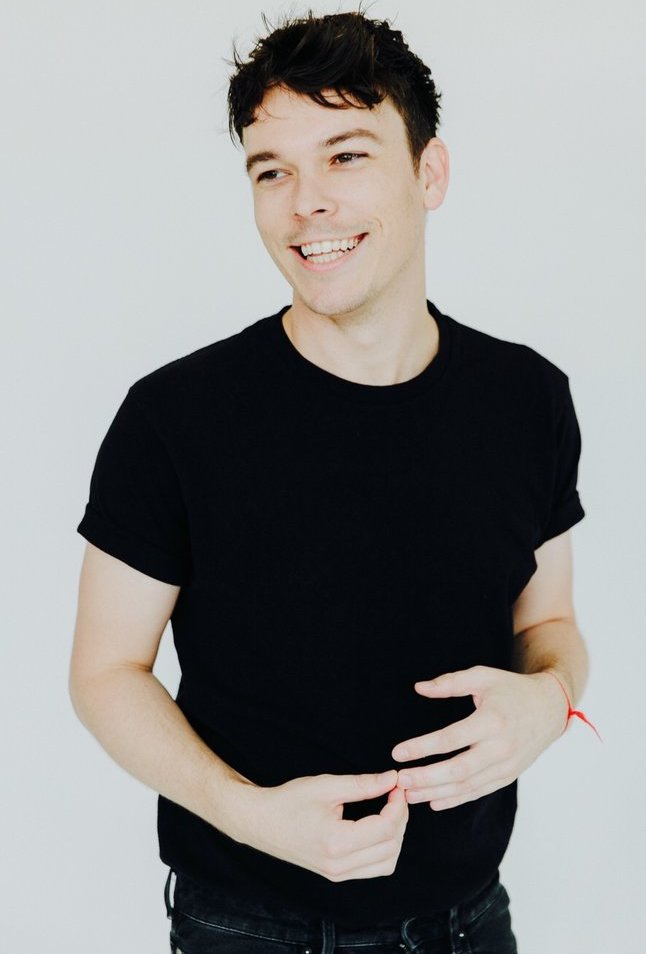 Who cuts your hair?
✂ Cyd mostly but only because we travel a lot and I don't have time to experience anything else. She's great but I'm not sure if she loves doing it in hotel rooms and our kitchen. The 14-year-old me loves a good kitchen cut.
Which Emoji best describes you?

✂ The eye roll emoji 🙄 when I think something is nonsense I can't hide it, even in text.

What do you do in your spare time when you are not working?
✂ I read and write. I'm a writer at heart and reading really helps me escape my anxiety. However, I love working and making new content so a lot of the time when I'm not working, I'm working on work. That sounds crazy but the entrepreneurs reading will understand.
What to find out more about Caeleb Bosscher and Destroy The Hairdresser? It's all in the links below:
Website: Destroy The Hairdresser
Facebook: @destroythehairdresser
Instagram: @caelebbosscher
Instagram: @destroythehairdresser